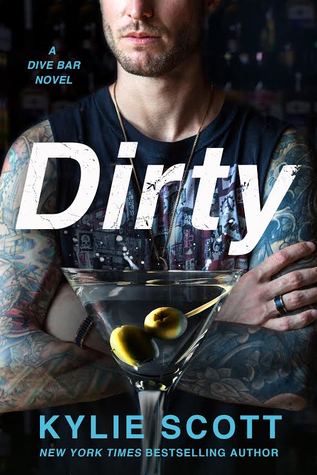 Dirty

by Kylie Scott
on April 19, 2016
Pages: 288
Buy on Amazon, Buy on iTunes
Goodreads


The last thing Vaughan Hewson expects to find when he returns to his childhood home is a broken hearted bride in his shower, let alone the drama and chaos that comes with her.

Lydia Green doesn't know whether to burn down the church or sit and cry in a corner. Discovering the love of your life is having an affair on your wedding day is bad enough. Finding out it's with his best man is another thing all together. She narrowly escapes tying the knot and meets Vaughan only hours later.

Vaughan is the exact opposite of the picture perfect, respected businessman she thought she'd marry. This former musician-turned-bartender is rough around the edges and unsettled. But she already tried Mr. Right and discovered he's all wrong-maybe it's time to give Mr. Right Now a chance.

After all, what's wrong with getting dirty?
Dirty is book one in a new Dive Bar series by Kylie Scott.
Book 1 has Vaughan, a man readers meet briefly in her prior series Stage Dive …. pause here if you have not read the Stage Dive series and you love rockers 1-click now!!!… ok unpause and back to Dirty…if you have not read the prior series no worries this book stands on it own two feet.
Dirty opens with Lydia's world falling apart around, well more specifically in front of her eyes, as she stares at her cell phone… this "viewing" puts her in the path of Vaughan. What unfolds is a laugh out loud huge smile on your face scene as you clearly get a mental image of the first time these two meet!
Vaughan and Lydia were so much fun to watch! Lydia folding into the Vaughan's life or more accurately the life he left behind when he went off to chase his music career was such a great example of how life sometimes takes you on a path you don't anticipate but is often where you find your home.
This book includes the Kylie Scott style I have come to adore:
"I will not be falling slave to your devil dick and demon tongue. No matter how good they are."
This is the start of a wonderful new series as it is filled with vivid and well crafted characters who I want to learn more about. I absolutely can't wait to see how things play out for Nell, Vaughan's sister!
If you read The Stage Dive series, you get an epic surprise when Mal drops by!
Thank you, Ms. Scott for a new cast of characters that I am looking forward to reading more about!