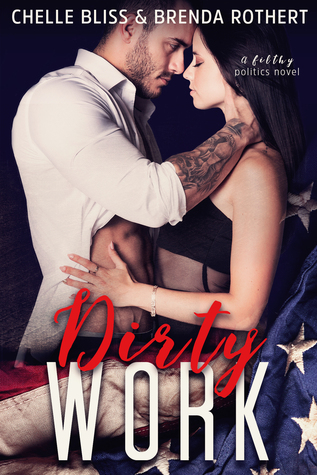 Dirty Work

by Chelle Bliss, Brenda Rothert
on July 26, 2016
Buy on Amazon, Buy on B&N, Buy on iTunes, Buy on Kobo
Goodreads


From authors Chelle Bliss and Brenda Rothert comes a smoldering standalone enemies to lovers romance that will, ahem…check all your boxes.

Reagan
I hate him. Jude Titan is everything that's wrong with the male sex: cocky, domineering and loaded with swagger. Oh, and did I mention he's a Republican? Yeah, the guy's so conservative he leans to the right when walking. And lucky me, I'm running against him for Senate. But I've got plenty of fight in me. A golden boy war hero opponent with a smile that leaves melted panties in its wake? Bring. It. On.

Jude
Damn, she's sexy. Reagan Preston intrigues me from the moment I lay eyes on her. And speaking of laying…I want between those thighs. But I want to make her burn for me first. Every debate and stolen moment is foreplay for us. She claims she hates me, but her body tells a different story. I plan to win this election, but I also want to win the sharp, fiery Democrat who captures my attention like no woman ever has. Politics is filthy, just like all the things I want to do to Reagan Preston.
Dirty Work is the story of Jude Titan and Reagan Preston who are wait for it….. running for a seat in the US Senate against each other. Reagan is a currently a representative in the House from Illinois whose father is a career politician and Titan is a veteran, a war hero and newbie to the political scene challenging her for the seat; the seat Reagan's father once held.
The authors did an unbelievable job with the chemistry in this one, the reader truly feels the pull between Jude and Reagan, their banter is epic; them being torn about the circumstances they find themselves in was so well done!
Dirty Work is a book about adults, adults pursuing their passions, adults both thinking they know what they want out of life, until someone unexpectedly comes crashing into their world. The struggle in this one is so real, opponents, political opponents in a race for a Senate seat with an attraction they both feel to their core.
This book is laced with heat and friendship and a desire to do the right thing.
The dual POV this book was told in really added to the story; a story where readers experience debates between the two candidates, the texts between these two as they develop a friendship, sneaking around as they become more, and stolen moments as they become lovers!
This book has so many great lines, which plays perfectly for individuals who are running for office!
"You don't hate me. You hate how much you want me."
Such a perfect book for an election year and it had me wishing real politicians believed this line by Jude:
"Better to lose with honor than win with deceit."
The secret that is exposed rocks Reagan to her core; I loved how this played out, it so true to what we often see in politics but her reaction to it made me love her even more. Reagan remains true to who she is and is determined to do the right thing even if it will cost her everything! Nope not telling read the book!
The end of this book warmed by heart and though early on it seemed impossible, I think in the end both candidates get what they want "to make difference."