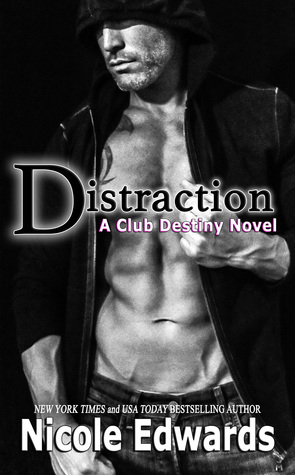 Distraction

by Nicole Edwards
on January 31, 2017
Buy on Amazon, Buy on B&N, Buy on iTunes, Buy on Kobo
Goodreads


Time doesn't always heal a broken heart. Sometimes the only thing it does is fill the darkness with more shadows, more pain.

Dylan Thomas has spent the past decade living in the shadows, mourning the loss of his wife, his best friend, his very reason for breathing. He long ago accepted that he would never feel again, that he was damned to a world without light, without hope. That was the day the bottle won, and he gave himself over to the darkness.

Until the one night that rocked his brittle, crumbling world on its axis. She told him what they shared was simply a distraction, a way to forget for a little while. It would've been, except the tiny glimpse of how it feels to live again, to feel again, gives him the strength he needs to pull himself up by his boot straps. But sobriety comes one day at a time, and three years later may be three years too late.
So…. this book is bittersweet in so many ways. First, Distraction is the last book in a series I have really enjoyed reading. Second, it is a cast of characters I have grown attached to as their lives have developed and evolved over the course of this series and finally, I had been waiting for Dylan's story for so long that it was bittersweet to open it (on a few levels).
The author's note in the front of this book was so powerful, it was very personal and truly pulled at my heart. The author's openness about her mental illness set the tone for some of this book and offers the reader a deeper understanding of the context of Dylan's struggles and to some extent Sarah's as well.
Dylan and Sarah knew each other in high school, they have re-connected both with deep wounds from the past. I didn't really see this was a second chance romance as they didn't seem to have a deep relationship in high school but it was nice that the author was able to paint the difference between teenagers and these two as adults.
If you have read the series, you know about both character's past traumas. If you haven't stop reading this and go 1-click book 1 Conviction; you don't see both characters in every book but it is a great journey so binge read the series.
Back to the book… I loved how we learn about Sarah and the person she goes to for help and guidance; it offers great insight into her personality and her healing.
Dylan's pain is tangible, his emotions bleed off the pages. There were times I wanted to strangle him, and times I wanted to hug him!
Speaking of emotions I hope the spin-off series planned by the author provides us more of his son, and the journey this young man will need to find his happy is one I would love to read. (I am so NOT telling… read the book.)
Dylan and Sarah have a connection that is hot…. with a strong emotional pull. I should mention the hot, VERY hot scene in this one is a scene that was almost teased in book 1 Conviction of this series. The author finally gives that hot scene a place to live (the original tease was with different characters but man, the heat was worth the wait).
In the end, the love Dylan feels for Sarah shines through as these two come together to build a life; a new life with new careers, something neither ever imagined would be their path, but one that so suits this couple!
I am very much looking forward to what the spin-off series brings! Yes, bring on Trent Ramsey!