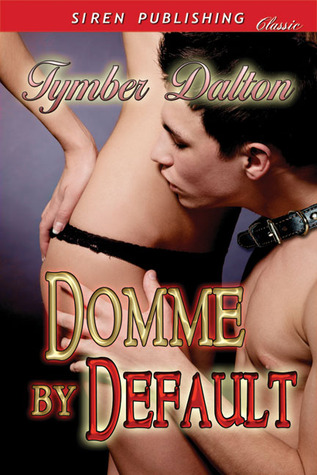 Domme by Default

by Tymber Dalton
on September 10, 2012
Buy on Amazon, Buy on B&N, Buy on iTunes, Buy on Kobo
Goodreads


Kinky never looked so normal.

When a wife is faced with the question of what she is willing to do for love, her answer is…anything. She sets aside her own inhibitions to fulfill her husband's wildest fantasies.

But at what cost to her peace of mind? What do you do when you've been appointed your husband's Domme by Default?

Warning: This story includes erotic M/F BDSM sex and related activities including anal play/sex/toys, a home improvement–challenged husband, a snarky, sarcastic wife, and the portrayal of a kinder, gentler side of BDSM.
I am going to start by reminding readers that The Suncoast Society series is the kind of series you can jump in and out of.  As book blurbs grab your attention feel free to read that book; I have done this for many books in this series and in this case, I went back to this book early in the series as I felt the need to read a Domme book.
In true Tymber Dalton fashion the author didn't disappoint, the tagline to this book "Kinky never looked so normal" was so perfect for this one.
Domme by Default provides a look at a married couple, a couple married for years in what appears to be a very happy marriage but as they now have an empty nest they work to find a newer happy.  The author has a great note at the front of this book sharing that this book is sort of autobiographical and I have to say the emotions showed.
Having this book told in alternative POV's provides a powerful look at what each party gets from the BDSM relationship. I adored that just because one partner wants to try something new, just because they are drawn to it doesn't mean happy just happens. The balance between wanting to provide your partners with their darkest deepest desires and being true to you, making sure you are satisfied was masterfully played out in this one.
In the end, the balance these two find felt perfect for them, though it took them some time to find their new eb and flow; the hot and emotional new happy was so perfect for them!