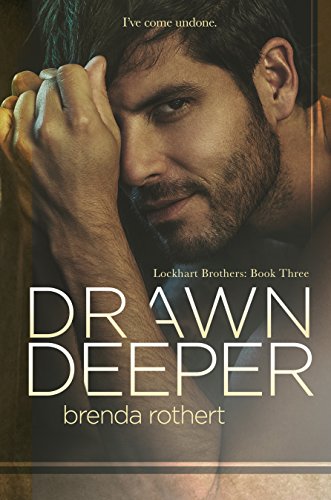 Drawn Deeper

by Brenda Rothert
on September 20, 2016
Buy on Amazon, Buy on iTunes
Goodreads


I've come undone. For years I thought the world looked at my family and saw perfection. I was a busy surgeon and my wife was devoted to our two boys. But her devotion crumbled as her alcoholism took over. The outside world saw all too well what I wanted to deny.

Ten months ago she filed for divorce, packed up and moved away. To where – I don't know. Nor do I care. But my boys do. And they're left with me, a man who never learned how to be the dad they deserve.

Just when I'm starting to pick up the pieces, my world is rocked again by the last woman I'd expect. Given her past with my family, she's a bad idea. But I'm drawn like a moth to a flame. I can't stay away, even though I know this, too, will eventually crumble around me.
I have been anxiously awaiting this book for some time; in book 1 Kyle was left as a busy surgeon and single dad to two very busy little boys and I couldn't wait to get his HEA.
Ms. Rothert made the wait worth it and then some.  I adored Kyle, he was a wonderful blend of confident and gentlemanly, he is clear he wants Meredith, he treats her with respect and he is sexually so much fun!
Side note: Kyle is divorced from his high school sweetheart who was let's just say was so cold so being a witness to an almost 40 year old man embrace his sexuality and to see him explore was both hot and emotional! This theme also made for some epic banter between the Lockhart brothers; yes at times I was laughing out loud!
Speaking of the ex, when Kim enters…. what a moment and although Meredith is taken aback to say the least, her desire to put Kyle's boys first will have your heart and your mind knowing she belongs with Kyle and his boys forever!
This use of the secondary characters was excellent as I mentioned above. The banter with the Lockhart brothers was amazing. The use of Kyle's Mom, Grace and Meredith's Dad was also well done and then there are the boys, oh my heart, the boys, Eric and Jordan. They not only added to the story but they pulled at my heart; their sometimes innocent questions offered such insight to their little hearts and minds!
The gift Kyle gives Meredith towards the end ties up so perfectly in the last scene in the book; nope not telling read the book. It also offers amazing insight into Kyle!
Oh and how Meredith finally comes to understand they are meant to be together was PERFECT, it brought the past full circle and makes sure the reader knows the whole Lockhart family will be comfortable moving forward.
I am looking forward to Hidden Depth in 2017 when get another Lockhart story!
♥ Books in the Series ♥
Book 1 – Deep Down
Book 2 –In Deep