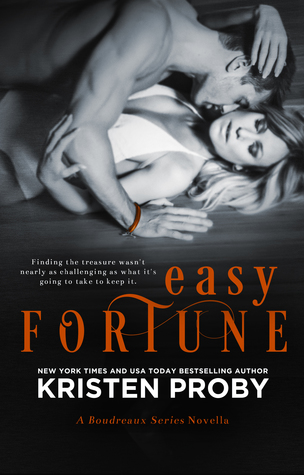 Easy Fortune

by Kristen Proby
on May 30, 2017
Buy on Amazon, Buy on B&N, Buy on iTunes, Buy on Kobo
Goodreads


The Boudreaux Series—Sexy. Intriguing. Easy.

Sometimes the past is better left behind you…

Lena Turner has spent her life as the outsider. Thanks to her extraordinary gifts, she's learned to be independent—especially when it comes to men. She's content to live her life in New Orleans as a schoolteacher, dating casually and dedicated to her small family. Long term is not part of her plan.

Sometimes the past catches up with you…

Leaving Lena behind to pursue his career was the most difficult thing Mason Coulter ever did. He told himself that it was for the best, had even convinced himself that he had only Lena's best interests in mind. But now, after six long years, he's back in New Orleans to settle his late eccentric aunt's estate. All he has to do is get in and out of the city without submitting to the need to see Lena. But to Mason's dismay, his aunt made other plans.

And sometimes the future and the past collide…

Having Mason walk back into her life is something Lena never saw coming. She could refuse to help him, but she's never been good at telling Mason no. So she'll do what she can to get the estate settled and Mason out of her life for good.

At least, that's the plan. But Mason has plans of his own…
Easy Fortune
is a novella in Kristen Proby.
Though the story takes place inside of her Boudreaux Series, it is easily read as a stand alone.
Easy Fortune is the story of Lena Turner (Mallory's best friend – Beau Boudreaux's love interest from Easy Magic).
This is a fun second chance romance. Why Mason Coulter walks back into Lena's life and how they end up spending time together are adorable.
The journey they take together goes from begrudging, to fun, to hot, to deeply emotional—something that I think worked in the short timeframe because of how well crafted this second chance romance was.
I read this book in a very short timeframe and did so with a huge smile on my face!