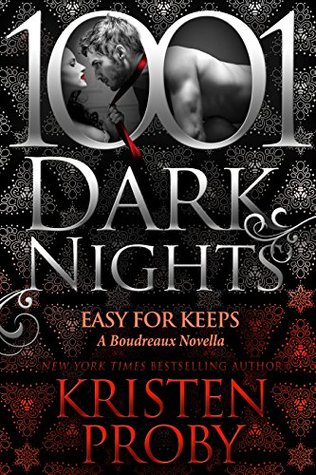 Easy for Keeps

by Kristen Proby
on May 24, 2016
Pages: 100
Buy on Amazon
Goodreads


Adam Turner loves women. All women. Every shape and size, regardless of hair or eye color, religion or race, he simply enjoys them all. Meeting more than his fair share as the manager and head bartender of The Odyssey, a hot spot in the heart of New Orleans' French Quarter, Adam's comfortable with his lifestyle, and sees no reason to change it. A wife and kids, plus the white picket fence are not in the cards for this confirmed bachelor. Until a beautiful woman, and her sweet princess, literally knock him on his ass.

Sarah Cox has just moved to New Orleans, having accepted a position as a social worker specializing in at-risk women and children. It's a demanding, sometimes dangerous job, but Sarah is no shy wallflower. She can handle just about anything that comes at her, even the attentions of one sexy Adam Turner. Just because he's charmed her daughter, making her think of magical kingdoms with happily ever after, doesn't mean that Sarah believes in fairy tales. But the more time she spends with the enchanting man, the more he begins to sway her into believing in forever.

Even so, when Sarah's job becomes more dangerous than any of them bargained for, will she be ripped from Adam's life forever?
Easy for Keeps
is a novella that can 
easily
 be read as a standalone… actually you really don't see any of the Boudreaux  family that makes up this sexy and fun series (yes I was a bit sad by this as I love this family but it so worked in the context of this short novella).
Easy for Keeps is the story of Adam Turner, the Odyssey co-owner and bartender who readers of the series meet in Easy Melody as he is the heroine's friend and business partner, but again if you have not read the series no worries at all. Ms. Proby makes it clear in the opening that Adam is a manwhore with no desire to commit (actually it is a very poignant scene as it does set up the fact that Adam is getting tired of it all).
Adam meets his match in Sarah Cox times two! (nope not telling read the book). It is clear from almost the moment Adam stumbled upon her that this is very different for him. I am going to keep this vague so the reader will be able to witness it unfold for themselves.
In true Proby fashion so much of this book is sexy!
I moan in happiness when I taste my baby back ribs.
"These are amazing."
"Keep making noises like that," he says as if he's talking about the weather, "and I'll take you home right now and give you a reason to make them"
Hailey added so much to this story, layering many scenes and forcing Adam to truly think about what he wants out of all of this.. yes, again, I know vague, that's on purpose!
In the end, it was so clear Adam found his forever happy!
This book had fun scenes, hot scenes and some with deep emotions. Ms. Proby managed to accomplish a fair range of emotions in a short novella.
I am very excited for the next book in the series Easy Kisses. Easy for Keeps reminded me why I enjoy a Kristen Proby book and I can't wait to get back to the Boudreaux  family!