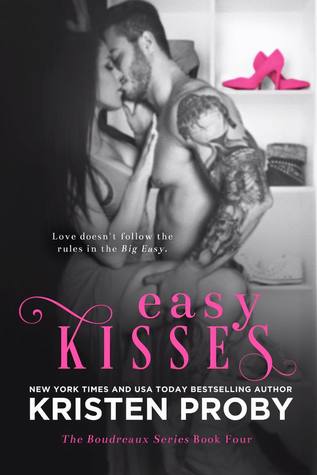 Easy Kisses

by Kristen Proby
on June 21, 2016
Pages: 275
Buy on Amazon
Goodreads


Simon Danbury, an internationally sought after motivational speaker, helps women from all walks of life with love, self-esteem, dating and career building skills. Handsome, witty and wealthy, Simon seemingly has everything a man could want.

But appearances can be deceiving.

While Simon may have the answers for millions of women all over the world, when it comes to his own love life, he's a giant, sexy mess. Divorced, and convinced that he'll never love again, the very last thing he expects is one Charly Boudreaux.

Charly doesn't want to be at this seminar in the middle of nowhere, but her sister made her go. She's the one who has her life together. Great career, amazing family, nice home, and loyal friends. So what if she doesn't have a man? She doesn't need one. If she's learned anything in her almost thirty years, it's that men are more trouble than they're worth.

And they have a nasty habit of breaking your heart into a million tiny pieces.

So she'll sit through all of Simon's touchy feely crap and go home and get on with her life. Except Simon isn't really spouting crap, and when he smiles at her, the butterflies are ridiculous.

Never mixing business with pleasure, Simon finds Charly, a bright spot in a universe that's been dark for too long. But will he be able to resist her?

And why would he want to?
Easy
Kisses
 finds Charly (Charlotte Boudreaux) on the retreat mentioned at the end of 
Easy

 Melody
.
This womens retreat is run by Simon Danbury, an internationally sought after motivational speaker. Simon captivates these women as he gets them to push themselves to the next level both personally and professionally.  With Charly though, he pushes something very different, he pushes her buttons in all the right ways, ways she had never experienced before.
The connection between Charly and Simon bleeds off the pages; it is very clear they share a deep bond, one that as a reader had me hoping what at first appears to be a weekend fling would develop into something more.
Simon's decision to take matters into his own hands puts him in New Orleans in the path of the whole Boudreaux clan. I loved this; it was so wonderful to see the family interact, working to protect Charly and in the end embrace Simon for the genuine man that he is. Oh and the use of Sam, Charly's nephew in this one was so adorable!
Simon and Charly are forced to face their demons but in the end the love they find is forever.  It was so amazing to witness Charyl embrace the business scene and then work with the family to drive her business forward even more.  There is a very touching scene around this and I so loved both Beau and Eli even more after reading it!
Though the Boudreaux patriarch is deceased from the start of this series, this book again had the children learn the lessons their father taught them, and this one takes the relationship Charly had with her father and uses it with poetic grace to move the story forward.
I adore the Boudreaux family and I am so excited to continue this journey with them.
If the pattern holds then I am super excited for Beau, the oldest Boudreaux next!
Though truth be told, I am DYING for Savannah and Ben to finally figure it out… well more like for Van to figure it out and embrace the love right in from of her.