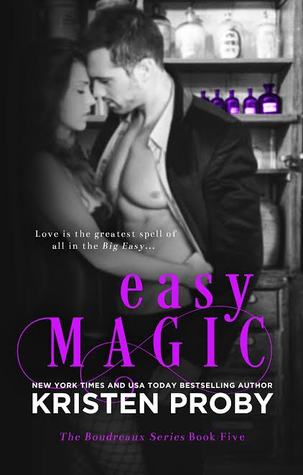 Easy Magic

by Kristen Proby
on April , 2017
Buy on Amazon, Buy on B&N, Buy on iTunes, Buy on Kobo
Goodreads


The Boudreaux Series. Sexy. Intriguing. Easy.

Family. Responsibility. Stability.

As the co-CEO of Bayou Enterprises, and the eldest of the Boudreaux clan, Beau is the epitome of these. Now that his baby sister Gabby is happily settled down, Beau has moved into the company loft in the heart of the French Quarter to be closer to his office while his own home is built. He doesn't have time for anything but the family he adores and the company that drives him.

If only the bewitching owner of the herb shop downstairs from Beau's loft wasn't so damn tempting.

Mallory Adams is living the life. The good life. The best life for her. After years of hiding who she is, and the gifts she's been cursed with, Mallory opened her little shop in the French Quarter, offering herbs and lotions for anything from soothing a sunburn to chasing those pesky ghosts New Orleans is known for out of a client's home. Some call her eccentric, and some say she's simply odd, and that's okay with her. She is a bit odd, but in her experience, all of the best people are.

When an old pipe bursts in the loft above her store, flooding her storeroom, Mallory comes face to face with Beau Boudreaux, and she doesn't need the clairvoyant abilities that have been passed down through generations to know that she'll never be the same. Beau is her exact opposite; serious, straitlaced. He wears suits for Pete's sake and probably wouldn't know the difference between arnica and flaxseed if his life depended on it. But when he touches her, the electricity is through the roof and she's smart enough to know that a chemistry like theirs doesn't happen every day.

Can two people so very different possibly find their way to happily ever after?
Easy Magic
 is a book whose hero, I have been waiting for…. you know… a secondary character in a series you love, t
he character who needs his match… and then WOW, he exceeds your expectations! That was this book for me! Beau Boudreaux was everything I hoped he would be and MORE! 
I want to make sure to note the title of the book so perfectly matches the story inside.  
In Easy Magic, Beau meets his match in Mallory Adams, the store owner who rents space in a building he owns.
I loved Beau and Mallory, his love and acceptance of her. I think he may be my favorite hero of the series (I will pause and say so far because I am dying for BEN and I think Ben may top Beau but I digress).
The author did a fabulous job of not only showing in words why Mallory was different for Beau but more importantly used his actions and reactions of those around Beau.  Like an admin who is quick to notice he works less and is willing to "work from home." 
A driven man making time in his life for a woman to me speaks volumes of the deep connection he feels. 
There are paranormal elements that show up in the large store inside of this due to Mallory's abilities, and though some spoke to me and I  felt to my core, especially those that were present prior in the series, there was one scene and second element that I struggled with a bit. I struggled to believe and I had to re-read said scene a few times. T
his may be due to my lack of 
 paranormal and not the author. It was because of this that had the book not a 5 star read for me.
Mallory's grandma's "why" was an EPIC twist I didn't see coming and one that really explains why this woman worked herself into the grave.   I am not saying more as I want the reader to experience how this plays out!
As with this series and many others by Ms. Proby, the secondary characters added to this story.
This series continues to have me loving this family. They have such wonderful and unique relationships with each other, the banter here is outstanding and something I have come to love about this author. 
As with the prior books in the series, the use of the patriarch of the Boudreaux family had me falling in love with this family even more!
I loved LOVED the hint of Ben's long standing love of Savannah and gosh I can NOT wait for Ben and Van to figure it out. Their story is on the top of my highly anticipated list!
Thank you Ms. Proby for this wonderful family saga set in New Orleans, this book allows the soul of the city to shine through!

I pull my phone out of my pocket to call Beau Boudreaux, who also happens to be my landlord.
Of course, there is no answer.
The man lives upstairs, directly above this shop. Can't he hear the water? Does he sleep like the dead?
Or maybe he's not home.
I frown and open my mind, searching the building.
He's home. I can feel his presence.
*And he might be naked.*
I immediately slam the psychic door shut and walk outside, up the wrought iron steps to his loft, and bang on the door.
"Wake up," I mutter. "And put some pants on."
I raise my hand to bang again, but the door is flung open and there's Beau, rubbing sleep from his eyes, a frown on his handsome face.
He's pulled some sweatpants on.
*Thank God.*
"What's going on?" he demands.
"I have a leak," I reply and swallow hard, willing myself to keep my eyes on his face, and not the sculpted muscles of his torso. I've met the man exactly twice, including right now, but what he does to my libido is ridiculous.
I'd forgotten that I have a libido.
Which is a sad statement all on its own.
"You had to wake me up at four-thirty for a leak?"
"I have three inches of water on my floor," I reply and turn to stomp down the stairs. "Come look!"
I don't look back as I wade back into my store. A few moments later, I hear Beau come clomping down the steps and look back as he fills the doorway with his wide shoulders. He's tall, pushing six-and-a-half feet. His hair is dark, and his eyes are like old whiskey.
Those whiskey eyes survey the space, frowning when he sees the amount of water on the floor.
"Do you know where it's coming from?"
"The bathroom," I reply and lead him to it.
"The fucking ceiling fan?" He exclaims and shakes his head. "I was expecting the toilet to be overflowing. Old plumbing is unpredictable."
"I was expecting the same, but here we are," I say and cross my arms over my chest. He glances back at me, and his eyes drop to my cleavage for just an instant before he looks me in the eye.
I don't uncross my arms.
"I'm going to shut off the water to the building."
"Good idea."
He rushes back outside and a few moments later, the water slows to a small trickle, and then fast drops.
He comes back inside and looks up. "Must be a broken pipe."
"Are you a plumber as well as a billionaire mogul?" I ask, unable to resist.
His lips twitch. "I'm good at a lot of things."
*Oh, I just bet you are.*