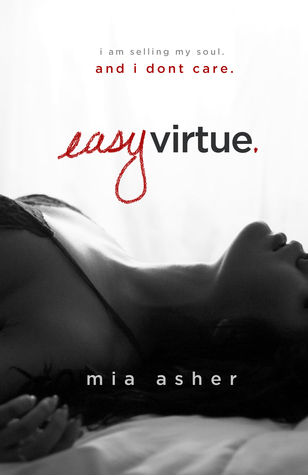 Easy Virtue

by Mia Asher
on December 3, 2014
Pages: 205
Buy on Amazon
Goodreads


Love is selfish...

My name is Blaire.
I'm the bad girl.
The other woman.
The one who never gets the guy in the end.

I'm the gold digger.
The bitch.
The one no one roots for.
The one you love to hate.

I hate myself too...

Everyone has a story. Are you ready for mine?
hmmm…writing this review I am still a bit torn about how I felt about this book. I wanted to love it as I LOVED Arsen but as I continued my read, it unfortunately fell a little short for me.
Ms. Asher knows how to write and she is usually able to evoke such a wide range of emotions from me. I will give you that Easy Virtue was sexy and ended with a shock factor that left me speechless at the end, wanting to read book 2 immediately because now of course I have to find out what happens.
We learn early on in the story that the main heroine, Blaire receives no love or attention from her parents thus behaves the way that she does because of it. Blaire leaves the town and her mother all behind hoping to find a better life but as Blaire gets older and becomes more beautiful realizing the importance of money in her life, she uses her body for sex and to get what she wants.
I have to say that this frustrated me a bit….I felt that a lot of this part was very internal monologue and I am a "show me" type of reader vs. a "tell me" type of reader. A lot of her struggles seemed repetitive. The impact that I know that the author wanted to convey to the reader was lost on me because of this and wasn't as strong as I would have liked to see. I also wanted to understand more why Blaire was the way she was. It was all very confusing to me and seemed almost glossed over and I would have liked more elaboration on this as I felt that I was almost missing something. This made it really hard for me to connect and empathize with Blaire.
Another thing that didn't work for me was the lack of story – speaking for myself, often times in books, I don't need the sexy times to enjoy a book. For me to love a book, it has to be a well written story that I completely connect with combined with some sexy times to make me want to immerse myself into the story and characters. Easy Virtue missed the mark on this one as well.
I did love looking into Blaire's potential love interests:
Ronan, the sweet guy who had the possibility to change her cynical ways. A guy that made me look at Blaire in a different light; seeing her happy and hopeful and almost more innocent made me want to like her.
And of course Lawrence, rich and handsome (Blaire's typical guy) with his POV that immediately captured my attention…I wanted to know more about this man ASAP
So will I read book 2…Yes because I want to know how it ends….I wish I loved this one more but hope that Ms. Asher can bring it up a notch in book 2!