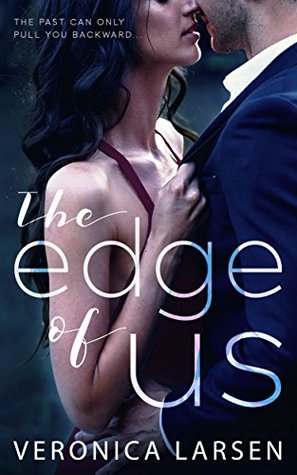 The Edge of Us

by Veronica Larsen
on August 1, 2017
Buy on Amazon, Buy on B&N, Buy on iTunes, Buy on Kobo
Goodreads


Eight years ago, Cole Van Buren left me at the altar without a single explanation. My heart's been at a standstill ever since, the anger keeping me from moving on. Keeping me from seeing the man who's been right in front of me all this time…

Andrew's been the friend I needed, the one constant through the hardest times of my life. But one night, the lines blur and we're tipped into something more. Just when I'm ready to explore what we could be…

My ex comes back.

Cole says he didn't come to get me back, but I should know better. The answers he dangles overhead are the ones I need to finally let go.

Except there's no such thing as closure, only a past that wants to pull you backward.
This was my first book to read by Veronica Larsen and will not be my last—she has found a new fan in me.
The Edge of Us was recommended to me by the author's publicist as I was a HUGE fan of the Black Swan Affair by KL Kreig. The blurb sucked me in and I HAD to read this book.
Thankfully this is not a love triangle as one may think by reading the synopsis. This is a story of heartbreak, forgiveness, and healing but it also touches upon addiction which was something that I didn't expect.
The second chance romance troupe is one of my favorites and reading the journey of these characters made me wish for that second chance to happen. But with the pain that has lasted over the 8 years and the secrets that went into Cole leaving Mila at the alter, is a second chance deserved?
I enjoyed the push/pull between these characters and the chemistry is HOT. But more than that, once Cole is able to put himself out there emotionally to Mila—to open himself to her as she has always wanted—my heart ached for the lost time.
I loved Mila as a character. Being a woman who is at the top of her game, successful, strong—she is someone that other women should aspire to be like. She never backed down when it came to her heart and the people she cared about and I loved watching her show Cole his worth.
I adored the relationship between Andrew and Mila—close friends who relied on each other and knew each other better than anyone else. Their relationship put a smile on my face and I SO WANT more of Andrew's story and I hope we get more (hint hint!)
Overall I enjoyed this book very much. The book world has so many books that release daily and so many books are overlooked but I hope you will give The Edge of Us a try because its touching, captivating and unputdownable.