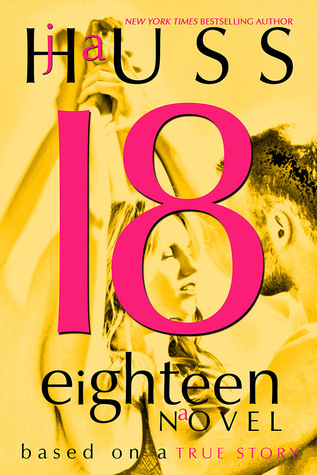 Eighteen

by J.A. Huss
on November 18, 2015
Pages: 316
Buy on Amazon
Goodreads


Eighteen is hard.
And so is Mateo Alesci.
He's hard to read, hard to predict, hard in every way that counts. He wants things from me.
Dirty things, nasty things, forbidden things.
And I have to give in.
His attention is completely inappropriate, but I can't say no. The way he looks at me… the way he watches me through my bedroom window… the way he drags me deeper and deeper into his completely forbidden fantasy world just… turns me on.
He knows it turns me on.
He holds all the power. He holds all the cards.
He holds my entire future in his hands.
And I have to give in.
Because Mr. Alesci is my teacher.
And I need everything he's offering.
This is the first book I have read by J.A. Huss and will certainly not be my last.
I love taboo books…the books where while you are reading, you know it should probably be wrong but it can't help but feel SO RIGHT. And I know teacher/student relationships are frowned upon…heck, I would be upset if it were my kids, but this is fiction and in the book world, anything goes and I absolutely LOVED Eighteen!
Poor Shannon is having the worst birthday ever in the history of birthdays. She recently lost her sister, is living with her niece and her brother in law who is a complete ass, and has just found out that she will need to take extra math and science classes in order to graduate high school. She wants nothing more than to take the easy way out of things so this is going to be a huge challenge for her. Shannon has a tough exterior because of her past, being moved around a lot as a kid but for the most part, remembering what it was like to be 18 years old, I felt that this was a huge front and that there was more to this character than what was shown to us in the beginning of the book.
Enter Mateo Alesci…
Mateo is Shannon's math teacher and sees past her hard exterior and wants to push her to her fullest potential. Mateo is totally inappropriate, totally hot and demanding and OMG and I completely loved him from hello.
Reading this book and experiencing all of the unexpected twists really kept me on my toes. At first, I didn't want to believe the good in anyone and had suspicions of others. I know this is being all sorts of vague but I want you to read this book and experience it for yourself. There were so many things I loved – the heat, the growth within the characters and most of all – the ending – omg the ending that really put a smile on my face because everything that happened was so meant to be.
It's a tough road that these characters will travel  but Eighteen completely captivated me from the beginning to the very end and I very much look forward to reading more from this author. If you enjoy forbidden books that push boundaries, give you some anxiety and make your heart skip a beat a time or a few..than you should definitely pick up this book to give it a try – I promise you will enjoy it!