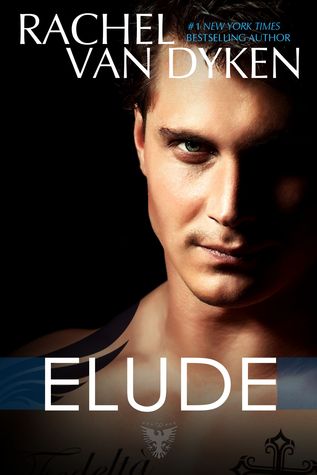 Elude

by Rachel Van Dyken
on July 9, 2015
Buy on Amazon
Goodreads


The sixth book in the internationally bestselling Eagle Elite Series.
*Interconnected Stand Alone*

Twenty-Four hours before we were to be married--I offered to shoot her.
Ten hours before our wedding--I made a mockery of her dying wish.
Five hours before we were going to say our vows--I promised I'd never love her.
One hour before I said I do--I vowed I'd never shed a tear over her death.
But the minute we were pronounced man and wife--I knew.
I'd only use my gun to protect her.
I'd give my life for hers.
I'd cry.
And I would, most definitely, lose my heart, to a dying girl---a girl who by all accounts should have never been mine in the first place.
I always believed the mafia would be my end game--where I'd lose my heart, while it claimed my soul. I could have never imagined. It would be my redemption.
Or the beginning of something beautiful.
The beginning of her.
The end of us.
I love the Eagle Elite series by Rachel Van Dyken and couldn't wait to read Sergio's story to see if he could redeem himself. You see Sergio betrayed his family and is a ghost and the cousin of Nixon Abandanto. Now he has a huge responsibility on his shoulders: to marry someone he is not in love with, to protect her and keep her safe and to then watch her die within 6 months from leukemia.
As always Rachel gives us a gripping prologue that promises a captivating and thrilling ride.
Sergio is dark and soulless and the complete opposite of Andi, the daughter of a Russian Mob Boss, who is optimistic in all facets of life. They have something in common – both turning on their families to work with the Feds and here lies Sergio's responsibility in having to marry her to protect her from her family.
Sergio hates the thought of having to marry Andi as he wants to remain cold, indifferent, alone and unhappy. Maybe something to do with his past history but this man as you read about him doesn't feel that he deserves any kind of happiness.
Rachel was able to do something that I never thought possible….and that is to totally change my heart and opinion on what I felt about this man because as the story progresses and we watch him open up his heart and mind to the possibilities of feelings and love and emotion with Andi, I am utterly heartbroken and devastated at the sadness that I know that this couple will face with her terminal sickness. I found myself laughing and crying reading their shared moments and it really just touched my heart.
Emotional yet beautiful and haunting, Andi was meant to heal this poor man as he was meant to give her a happy and safe life. A life that was worth living to the very end and Andi's strength through it all was so so admirable.
This couple got more than they bargained for on that day that they married and this journey together though not nearly long enough made me happy that the darkness was removed from Sergio's eyes and that the future was filled with so many possibilities for him. Because as we learn some surprises in the end,
I am very much looking forward to the continuation of his story.
The Eagle Elite Series is a must read for readers who love action packed romance stories..stories that pull at your heart strings as you want nothing but happiness for these characters and I highly recommend this series as each successive book just gets better and better! <3