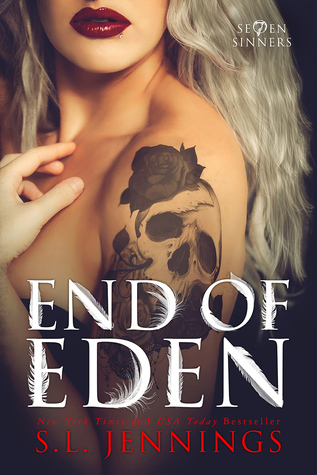 End of Eden

by S.L. Jennings
on February 25, 2017
Buy on Amazon
Goodreads


I thought I knew what Hell was like.
I thought I had been living it all these years on Earth—abandoned, forgotten, and left with a dangerous secret that not only made me the Se7en's #1 target but also turned me into a deadly weapon, a threat to every human in my path.
I was wrong.

In order to survive Lucifer's plans for me, and his unquenchable thirst for more power, I have to surrender my humanity. I have to lose a part of myself in order to find my way back to him.
Back to the demon who saved me, only to break me.
Back to Legion.

But even supreme evil has its limits, and the real foes never show their devastatingly beautiful faces.
Forget fire and brimstone. They aren't shit compared to what's coming.

Centuries-old bonds will be broken. Unlikely alliances will be forged. And innocent blood will be spilled. Blood that will stain my hands for the rest of my mortal days.

I thought I knew what Hell was like.
I was wrong.
Hell is coming.
Hell is just the beginning.
When I need to cleanse my book reading palette, I always pick up a PNR book or something outside of the contemporary romance genre to give me that something different. S.L. Jennings knows how to write REALLY GOOD PNR as End of Eden like the first book, Born Sinner, was action packed, exciting, sexy, and completely addicting.
End of Eden begins where book 1 left off and Eden is trying to navigate living in hell with the devil himself, Lucifer. I want to pause here and say that while Lucifer did some scary f'd up stuff that there was a part of me that wanted to believe in him…that he really truly cared for her…am I crazy?!?!
With new characters being introduced to the mix and the reality of a rescue from hell nearly nonexistent, not knowing who to trust and questioning everyone at every turn had me sitting at the edge of my seat as I devoured this book in one day. S.L Jennings did not disappoint and my only negative is that I WANT MORE NOW! lol
S.L. Jennings creates a magnificent world of angels and demons that is compelling and mind boggling AMAZING! I am IN LOVE with these characters and most especially Legion *le sigh*
P.S. I know I am not saying too much about the story in End of Eden because I don't want to spoil the OMG MOMENTS for you – trust me you will thank me later 😉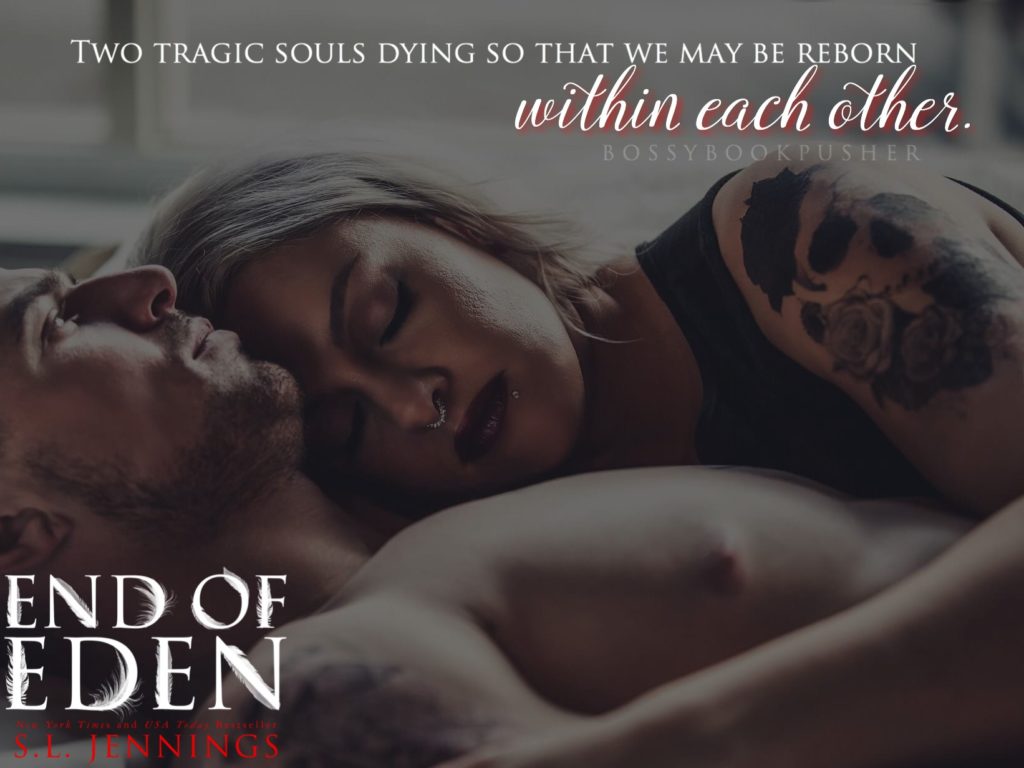 ★¸¸.•*¨*•★ Read the Series ★¸¸.•*¨*•★
Book 1 – Born Sinner