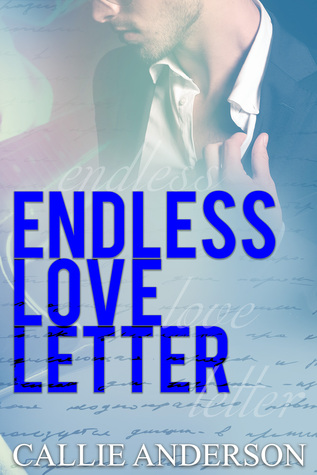 Endless Love Letter

by Callie Anderson
on January 18, 2016
Buy on Amazon
Goodreads


Our love had to live in the past…

The first time we met I knew.
She was perfection.
I needed to know everything about her—what made her smile, what her lips tasted like, what her body felt like under my skin…

But our love was fatal.
The purest venom that seeped through my veins and embedded deep into my soul.

Emilia was
My love.
My muse.
The woman who owned my soul.

The woman who shredded my heart to pieces.
Happy Release Day to Callie Anderson and her new book Endless Love Letter. You can read Chapter 1 of Endless Love Letter HERE.
So I must admit that I didn't read book 1, Invisible Love Letter, until after it released and because it came highly recommended from my friend Lisa over at Three Chicks and their Books. And I waited to read it because I heard there was such high angst that I had to hold out until I could read both books together back to back. Boy, I am so glad that I waited because WOW! This series! These books! I don't think I have been on a roller coaster like that in such a long time…the feels! The tears! This series broke me; I don't think I have cried like that in such a long time. If I could sum up this series in one word, it would be BREATHTAKING.
So I will try to keep this as short as I can as this is a review for 2 books in this series – Invisible Love Letter and Endless Love Letter.
When we meet Emelia in book 1, she has rules: No falling in love and no musicians.
So imagine my utter surprise and delight, when we are introduced to Weston. Weston is everything she doesn't want yet on her last day in the US before she is to leave the country, she meets him and he makes her feel things she doesn't want to feel.
I fell for Weston right away. You see Weston made me believe in love. He was sweet and romantic and I wanted so badly for Emelia to let him into her heart.
Now without giving anything away about this book – the angst nearly killed me. And there is something that Emelia does that made me want to throttle her. She broke my heart and stomped on it and ripped it into tiny tiny pieces.
Thankfully I didn't have to wait for book 2 and dived right in to Endless Love to find out how it would all play out.
Now Endless Love Letter picks up where book 1 left off. I am completely heartbroken for this couple and all of the secrets that kept them apart.
I will say that this book completely devastated me..obliterated. I won't share one detail as this is a part of Weston and Emelia's journey that you need to experience firsthand and without spoilers to ruin the effect.
All I will say is that sometimes life can be so cruel 🙁
What I loved about this series was the emotional breakdown I had while reading it. You may think that sounds crazy but I love when my blood boils, when my heart squeezes in my chest from the pain and hurt, and when tears flow freely from my eyes. Why you ask? Well because you know you have a good book in your hands. Callie Anderson did a phenomenal job in creating a story that I not only devoured in a matter of 2 days because life did not exist outside of the pages of these books, but she created a story that I know in my heart I will never forget. Stories like these are why we read – because it shows you how true love, that epic love should be. Yes, sometimes life can be cruel, and nothing is ever easy, but it's the moments you have with your loved ones that make life worth living.
I didn't understand some of Emelia's actions in book 1 but in book 2, I fell in love with her and Weston and their journey that will stay with me for a long time to come <3
♥ READ BOOK 1 ♥