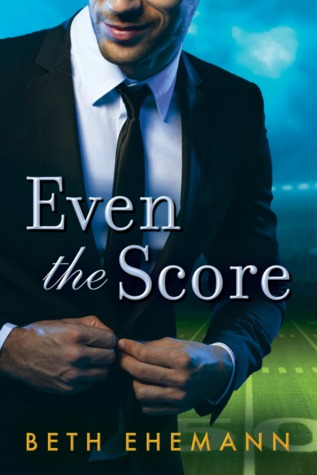 Even the Score

by Beth Ehemann
on September 6, 2016
Pages: 322
Buy on Amazon
Goodreads


Single dad Andy Shaw loves his job as a sports agent, with one exception: it doesn't leave him much time for his kids. No parent likes being sidelined, so Andy decides to hire someone to share the workload. But when one of the hottest agents in the industry applies, Andy knows that this deal is definitely trouble.

Danicka Douglas works her butt off, but being an attractive woman in a testosterone-heavy industry isn't exactly a cakewalk. She guards her professional reputation fiercely, which means no crushing on her gorgeous boss. But the more they ignore that sexy little spark, the more it sizzles…

Just when it looks like romance might be in the game plan, Dani is threatened by a stalker with dark intentions. To keep her safe, Andy must cross the line between professional and very personal…because this time, he's playing for keeps.
For those who have read Ms. Ehemann's Cranberry Inn series or Viper's trilogy, you know Andy as Brody and Viper's agent. If you have not read any of her prior books, no worries this single Dad book is easily read as a stand alone.
Yes, you read that right this is a single Dad book!
I loved sports agent Andy Shaw. His struggle to balance work and family felt so real; you could feel him being torn between growing his business and being present in his children's lives. You will never question Andy's love or devotion to his children but you will feel his pain as he struggles with what most working parents do especially small business owners, there simply aren't enough hours in the day.
"What was I supposed to say…That the tooth fairy had one beer too many and fell asleep watching SportsCenter? It was easier to say she had the weekend off."
I loved that Andy's solution to the dilemma of the time demands of his growing business brings us Danicka Douglas. This female sports agent in a male dominated world carries her own and then some.
I adored how Dani folded into Andy's life with such ease. He respected what she brought professionally to his growing firm and he embraced her in his personal life.
I loved seeing Brody, Viper and their families but this book also provided additional secondary characters whose stories pulled at my heart… hint ** hint** please give Justin a happy!
The end of this book had my heart full and I closed my kindle with a grin from ear to ear