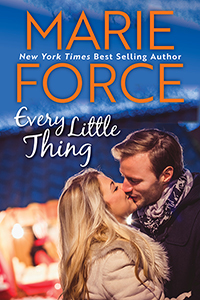 Every Little Thing

by Marie Force
Series: ,
on February 14, 2017
Pages: 350
Buy on Amazon, Buy on B&N, Buy on iTunes, Buy on Kobo
Goodreads


Grayson Coleman has just moved home to Butler, Vermont after spending years working for a high-powered law firm in Boston. He's looking for a simpler, less stressful existence in the sleepy little mountain town where he grew up with his siblings and Abbott cousins. Once the holidays are over, he plans to hang out a shingle and open a new general law practice. After helping to raise his seven younger siblings, the last thing on Grayson's mind is a family of his own.
Emma Mulvaney is enjoying a break from her reality as a busy single mother in New York City while she and her adorable daughter, Simone, spend the holidays in Vermont with Emma's sister, Lucy, and Lucy's future in-laws, the Abbotts. After meeting Abbott cousin Grayson Coleman and talking to him for hours, Emma is nervous and excited to have dinner alone with him after sharing her deepest, most personal secrets with him.
Will that first night be the start of something new for the jaded lawyer and the selfless single mom or will a holiday week flirtation turn into something much bigger than either of them ever expected?
Come back to Butler, Vermont for more of the charming Abbott family, their matchmaking father and grandfather and of course, Fred the Moose.
This book is labeled a book one but is really the continuation  of the Green Mountian series, an amazing series about the Abbot family of Butler Vermont. If you haven't read the Green Mountain series, stop reading and 1click book 1
All You Need Is Love
.  
Every Little Thing
is the reason I love family sagas!
I think I forgot how much I love this cast!  The author's note was  perfect as was the prologue. I loved knowing Ms. Force's plans to keep this series going as we get to know more about the Abbott and Coleman families (large families of cousins whose mom's are sisters!) I wanted to live in this book, time stood still and I had no idea I had been reading for 2 hours when my husband asked if I was coming to be bed and shh…. truth… I think I wanted to sit there and just live in Butler with this cast a little while longer 🙂
Greyson is a man so easy to love and in this one his love interest in Emma (she is Lucy's sister – Lucy fell in love with Colton Abbott in 
I Saw Her Standing There
Green Mountain #3)
Greyson's first scene with Simone set the tone for this book and my heart soared from there on.
As a reader, I believed the connection almost instantly between Emma and Greyson because the author did a fabulous job at layering the emotions and making it clear this was so different for each character. I also loved the use of Elmer Stillman (Greyson's grandfather) around this point!
Side note this is the kind of series that sticks with you … you remember the characters, who they fell in love with, the writing is that good! I loved that the author allows us to read and see others, that we were a part of moments outside of those just involving Emma and Greyson.   You are truly immersed in this family lives!
I want to make sure to say I shed tears for Bob and Amelia Gutherie, how this scene played out was pure genius by the author.
There was so much epic banter in this one!  Family game night was beyond epic, not only do you see each characters personalities but the fact that the author is able to provide unique bonds between siblings is something special! The older Abbott siblings accusing their parents of letting the younger ones run wild was hysterical.
Callie was so perfect, how she came to be, who played a role in it… and how Nolan was used, it was the definition of love and no I am NOT telling… Read the book!
How Emma and Greyson makes this one work is great… thanks to Linc! Who yet again, plays the role of chess master.
Now I want Wade, let's see how this Grandpa and Father can pull one off!  I am so excited for 
Here Comes the Sun
; Wade Abbott
's story!
And Noah Colmen I so want to know your story, Noah is one of Grayson's brothers and well it is clear there is a story there and he so needs his happy!
Ms. Force is going to be busy I hope for sometime to come allowing the reader to stay immersed in Butler, VT.
The end of the book shares that the reader will also get a novella Patrick and Mary titled "Can't Buy Me Love" if you don't remember Patrick is Cameron's father…. Mary plays an integral indirect part in this story so I am excited to see her happy play out and to experience the chance that has been hinted for Patrick for a few books now!
Please note the 5 stars for this book may be more about the whole series than it is just the love of Grayson and Emma! This series is that good!