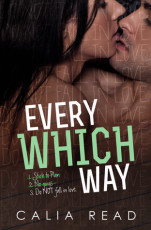 4 STARS!!!
Summary
Severine Blake has seen far too many friends taken down in the crossfires of dating. She devises a precise course of action to protect her heart. The plan is working very well…until she meets Thayer and Macsen.
When the Sloan brothers come into her life, nothing is the same.
Thayer is self-possessed, arrogant and used to getting what he wants. Being near him leaves Severine unsteady and shaken. He makes her question everything.
Macsen contradicts his brother in every way. His calm personality captivates her. Severine is drawn to him instantly.
But Severine quickly discovers that when you want something, that want can turn wicked. Giving in is not always easy, especially when your heart refuses to give up the fight.
What little illusion of love Severine has is soon destroyed. Every option is broken, and the protection she has built around her heart instantly crumbles.
There's just no right way with the Sloan brothers.
New Adult
Christine's Review
I have had Every Which Way on my TBR list for a while and when the blog tour came up for Breaking the Wrong, I thought what better time than now to read about the Sloan brothers.  What a well written, witty and refreshing read!  Calia Read has definitely joined my list of authors I love!  Just to forewarn you that this is indeed a love triangle….
Severine Blake is a girl who I wish I could be!  She is impulsive and honest, can't keep any thoughts to herself but is super confident and strong.  She knows what she wants when she wants it!  She does have her flaws and issues but is open and honest about them.  Her biggest flaw in my opinion was the need to always be in control of things.  A lot of this stemmed from watching the destruction of her parents relationship when she was growing up – how her mother gave her heart to her father but how her father threw it away time and time again.
When Severine meets the Sloan brothers – Macsen, the introverted sweet brother, and Thayer, the basketball player, popular brother – there is a connection to each that is undeniable.  Mac is handsome; he makes her laugh and calms her.  However, she has an irresistible attraction to Thayer; Thayer gets under her skin and challenges her.  Does Severine choose the boy with the brains or the boy with the big head that she knows she should stay away from?  Should she make the easy safe choice or the one that scares her because she can't control what the outcome could be?
It's very obvious that the brothers don't have a good relationship because of issues from their past.  And I feel bad for them as we find out more about their background.  It's hard to live in your brother's shadow and must be even harder to go to the same college and compete for the same girl.  Their interactions together definitely made for some interesting reading.
I LOVED this book!  The tension elevated my stress levels to crazy highs as I wondered what would happen with these characters.  It goes to show that the saying "don't judge a book by its cover" is spot on – how you see and judge people when you first meet them is not necessarily who they are on the inside.  And you can't make a choice because you think it's the harmless and right one.  When it comes to matters of the heart, you can't control everything – sometimes you have to let it go and experience it for what it is.  Some things are just meant to be and you can't control the outcome all of the time.  I am happy with how the book ended – it was frustrating at times but that's what makes for good reading – being able to catch the reader's attention and then having them think about it long after the last page.
Thank you Ms. Read for an AMAZING book!  I cannot wait to get started on Breaking the Wrong!!
Character Inspirations
About the Author

College seemed like too much stress for me. Traveling across the world, getting married, and having three kids seemed much more relaxing.
Yeah, I'm still waiting for the relaxing part to kick in…
I change addresses every other year. It's not by choice but it is my reality.
While the crazies of life kept me busy, the stories in my head decided to bubble to the surface. They were dying to be told and and I was dying to tell them.
That was four years ago. Soon, the stories will be shared with you. I hope you'll enjoy escaping to the crazy world of these characters with me!!
I'm constantly on Facebook. 'Like' me there so we can gush and talk about everything books!