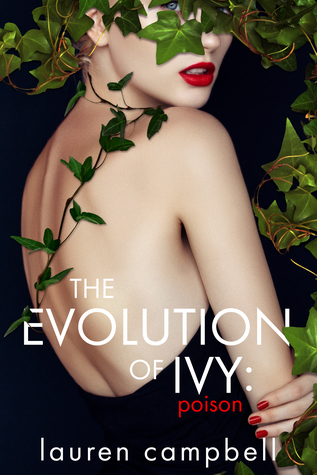 The Evolution of Ivy: Poison

by Lauren Campbell
Series: ,
on January 30, 2017
Buy on Amazon, Buy on B&N, Buy on iTunes
Goodreads


They won't recognize the new me.

But they know the old me well—the me she harmed, and the me he loved.

She thinks she has him. But I'm going to take him back.

He thinks she's the one. But I'm going to show him he's wrong.

I thought it was over. But now I have a chance.
"…true love requires true sacrifice."
Holy $h!t!!! What the hell did I just read?! I bought The Evolution of Ivy: Poison on a recommendation from my blogger friend Jen from Schmexy Girl and devoured this book in ONE SITTING on this cold blizzard day!! Crazy, psychotic, addicting…this book is deliciously intriguing and mind boggling f'd up!
What would you do if your trust was betrayed? If the love of your life was taken away? Would you do anything and everything to get him back? Jump into the mind of Poison Ivy as she struggles with her beauty, self esteem, and revenge as she fights to win back the love of her life and at what cost be damned.
Told in a couple of alternating POV's and in the past and present, you will learn everything about these characters. There are several OMG moments that will leave you completely speechless. Even now, I still can't believe how it all went down! I am seriously intrigued and left wanting more after that ending and can't wait to read what happens next…Another new author to follow – I feel like I am on a book high right now!!! What the heck is going to top this feeling – GAH!
I know I am not saying too much but read this excerpt….read these teasers and find out why you HAVE TO READ The Evolution of Ivy: Poison. This book and the author's writing style is very reminiscent of how I felt after reading Tarryn Fisher's The Opportunist. It is bat shit crazy but I can't stop thinking about it…trust me – just read it! And honestly for $.99 this book is a steal and worth so much more than what it costs – DO IT!!!!

Brooks and I could have had a magical love story with no snags along the way. Now, being with her will end up to be the biggest mistake of his life, because we're still going to get our happy ending, and I'm going to help him keep his promise, but I'm going to have to fuck him up to make that happen. If I had friends, they'd probably ask why I even want him at this point, but I liken Brooks to a pearl in an oyster. The pearl is his goodness, the Brooks I used to know, and the oyster is Eliza—the material and superficial bullshit of this world, enslaving that pearly goodness. If I can simply pry open that shell, he can be good again, I just know it. He loved me before I was ugly, and he'll love me after I'm not ugly anymore, and I have over three hundred days to get this shit done.