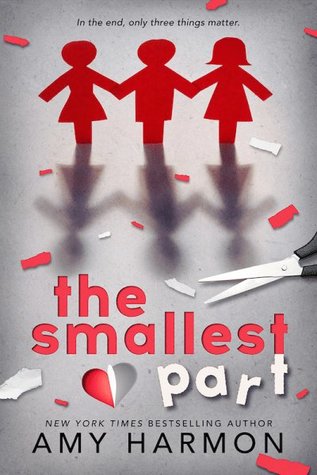 The Smallest Part

by Amy Harmon
on February 13, 2018
Pages: 325
Buy on Amazon, Buy on B&N, Buy on iTunes, Buy on Kobo
Goodreads


"In the end, only three things matter. How much you loved, how gently you lived, and how gracefully you let go of things not meant for you." - Unknown
It was a big lie. The biggest lie she'd ever told. It reverberated through her head as she said it, ringing eerily, and the girl behind her eyes—the girl who knew the truth—screamed, and her scream echoed along with the lie.
"Are you in love with Noah, Mercedes?" Cora asked. "I mean . . . I know you love him. You've been friends forever. We all have. But are you in love with him?"
If it had been anyone else—anyone—Mercedes would have stuck out her chest, folded her skinny arms, and let her feelings be known. She would have claimed him. But it was Cora. Brave, beautiful, broken Cora, and Cora loved Noah too.
So Mercedes lied.
And with that lie, she lost him. With that lie, she sealed her fate.
She was the best friend, the bridesmaid, the godmother, the glue. She was there for the good times and the bad, the ups and downs, the biggest moments and the smallest parts. And she was there when it all came crashing down.
This is the tale of the girl who didn't get the guy.
"In the end, only three things matter. Who He is. Who you are, and who your friends are."
Christine: I am BLOWN AWAY!!!
Denise: I am going to start by saying please do not let the cover lead you to believe The Smallest Part is a love triangle… it is so far from that… the paper dolls on the cover do play a pivotal role in the story and once you read the book they will make so much more sense… so yes READ THIS BOOK.
Christine: This is a beautiful story of an everlasting friendship and love between three friends growing up together through childhood, adulthood—from the highest of highs to the lowest of lows.
Denise: I wish I could simple say read this book and scores of readers would open up the brilliance that is The Smallest Part but alas I know I need to TRY to find the words to compel readers to pick this one up so here goes….
Denise: This book reminded me why Amy Harmon is rare talent. This book is truly masterful storytelling, weaving the past, present, and future into a story that will leave your heart broken at times, your mind racing as these characters take up residence in your soul and in the end your heart so full it might burst.
Christine: There were so many things to love about this story… the love and devotion between good friends, their ability to always be there for each other no matter what, the unwavering love through good times and bad.
Denise: The Smallest Part was a tough read for me, tough in a powerful, emotional and very close to home way. Ms. Harmon captures, the pain, the struggle and the ripple effect of mental health with grace and poise. Mental illness is not black and white, you often don't get answers but you do get to decide if and how you will move forward.
Christine: Amy knows how to pull emotions from readers and trust me, they will run the gamut with this one. I laughed, I cried, I suffered pain and I felt complete joy. This book truly touched my heart.
Denise: I really really do not want to relay anything about this beautifully woven plot or the how the two characters find their way to each other in what I know in my soul is forever love but I will say Bravo, Ms. Harmon. You took a very tough subject matter, crafted a world filled of flawed characters and created a story that now sits on my top read list, my forever list, not just this year.
Christine: I loved all the characters… but Mer is my favorite. A strong, independent woman who had the heart of gold, always put everyone first, was always there for her friends to lift their spirits… she was the rock, the core of this friendship.
My heart broke for Cora… never really knowing who she was… such an accurate portrayal of mental health…
And Noah… always strong and there for his girls… unsuspecting but when put in a tough situation, really shines through.
Denise: As an aside I want to thank Amy for being so open about her family's struggle with mental health, I truly believe she has helped more people that she will ever know.
Denise: If you read the Law of Moses, the use of Moses in this book is so well done. If you have not, no worries. Moses is well explained and used to really move this story forward. Just don't be surprised when you 1-click The Law of Moses after reading this because I really think you will to learn more about Moses and the happy he finds (there are NO spoilers to Moses' happy in The Smallest Part—the reader sees Moses working to put his life on track).
Christine: A definite top fave of 2018 for its unparalleled depth, and as Denise said a picture perfect look at how mental health affects everyone around them. This book showcased the importance of family and fate and the strength and power of love. EVERYTHING about this unique story is exquisite and completely and utterly unforgettable.
Denise: Ok I think I need to stop babbling as this is one of the few books both Christine and I have even given 5 stars to. Please read this book… it is that good, I am resorting to begging.

Noah and Mercedes agreed to accompany each other to their obligatory New Year's Eve work parties, first to Noah's, then Mercedes's, with plans to be home shortly after midnight. Heather had taken Gia home for the evening and would keep her through the next day, but New Year's fell on a Saturday, which was Noah's longest shift, and he had no desire to party late into the night and work all the next day. He had no desire to party at all, but pulled on a pair of grey slacks and a black dress shirt, trimmed his beard and slicked back his hair, and did his best to put on a happy face for a few hours.
Mercedes wore a red dress with little capped sleeves, a sweetheart neckline, and a full skirt, and she fixed her hair in Veronica Lake waves. With glossy, red lips and high, red heels, the whole look screamed, "Look at me," but Mercedes had always considered herself a walking advertisement of her profession. If she looked good, people would come to her to make them look good. She had business cards in her clutch.
Noah just smiled and shook his head when he picked her up. "How will I explain you, Mer?"
"No one will think we're together, Noah." She patted his cheek. "Don't worry."
"Why won't they think we're together if we arrive together?"
She shrugged. "No one ever has. How long have we been friends? Everyone knows we aren't a couple. From the very beginning, I've always been the sidekick."
Noah didn't argue with her, and when they arrived, he introduced her as his oldest friend, just like he always had. Everyone nodded and smiled kindly—if a little curiously—and made stilted small talk until Noah whisked her away to someone new. He kept her hand in his and moved through the clustered couples and hospital administrators with purpose, stopping, greeting, and engaging in one minute of conversation before moving along and repeating the same steps.
"You can drink, Mer. Don't abstain on my behalf," he said, when he noticed she hadn't eaten or sipped a single thing.
"I don't think I have time."
"Why?"
"Because when you've given every person here exactly sixty seconds, we're going to leave."
"Am I that obvious?" He winced.
"Yes. Are you timing yourself every time you stop to talk?"
"There's a ticking time bomb in my head, if that's what you mean. Everyone is making those mournful eyes at me, wondering how I'm really doing, or speculating if I've already moved on. It feels . . . weird. Cora's been gone for almost nine months, and this is the first time anyone has seen me with someone else. And for your information . . . you don't look like a sidekick."
She smiled and winked at him. "Always have been, always will be. So . . . are you ready for round two?" she suggested.
"Yes, please. Your coworkers don't know me as well."
"True. And my party is eighties themed."
Noah groaned. "Please, no."
But at the Maven staff and client bash, no one looked twice at Noah, except to say hello, before turning to Mercedes and talking shop. Noah relaxed as the evening wore on, his fear and discomfort falling away into the easy warmth of being with Mercedes and a group of people who hadn't known Cora and who didn't especially care to know him. It was nice. Mercedes even got him to dance. It was like being thirteen again, 1987, listening to the boombox while shooting hoops, Mercedes dancing while she dribbled. Every song reminded him of The Three Amigos, and for a little while he set aside the weight on his shoulders and just was.
Keegan Tate cut in once, whisking Mer away and holding her too close as Night Ranger moaned about Sister Christian, but Mer whirled back to Noah on the next song, laughing and leaving Keegan to find another partner. Noah made sure it didn't happen twice, shooting a warning look at anyone who approached and dancing to every song, just so Mer wouldn't leave him again.
When the countdown to midnight began, the DJ warning the crowd and pausing the music, Noah realized suddenly that he'd made it. He'd survived the worst year of his life, and considering his life, that was saying something. There were days when he hadn't been able to do anything but exist in the moment, where the thought of the future almost shut him down. He still wasn't whole, and life wasn't easy. Thinking of Cora still made his heart ache and his stomach clench, but he'd made it. Gia was growing. Gia was happy. And it was going to be okay. Eventually.
". . . Three, Two, One. Happy New Year!" the DJ blared. Balloons fell, and noisemakers blasted.
"Happy New Year, Noah!" Mercedes cried, catching a balloon and tossing it up again. Noah looked down into her laughing eyes and around at the kissing couples crowding the floor, finding himself in the same situation he'd been in months before when he was pinned by the kissing cam.
"There's no jumbotron, Noah," Mercedes protested, standing on her toes so she could speak into his ear, clearly wanting him to hear her amid the noise and the merriment, but he didn't pull away. He knew Mer had no expectations of a kiss at midnight. In fact, she probably expected a hug and a high five. The knowledge freed him, and he turned his face and brushed his lips across her cheek.
"Happy New Year, Mer." Then his lips captured hers, a gentle acknowledgement, a nod to the new year, and her hands rose to his chest in surprise. For a moment it was simply the quiet kiss of true affection, the soft exchange of warm thoughts and well wishes. But someone shoved past them, and Mercedes teetered, losing her balance. Noah's arms tightened to steady her, bringing her body more fully against his, and suddenly their mouths weren't pressed together in cautious greeting but in growing wonder. Their lips lingered, tasting and teasing, shifting and re-shaping, a kaleidoscope kiss that formed only to fall away and reconfigure.
It wasn't until the lights flickered and the eighties tunes resumed—"Auld Lang Syne" becoming UB40's "Red Red Wine"—that Noah lifted his head and Mer lowered her eyes, catching her breath and letting him go.
"I hate this song," he said.
"I know you do."
"It's going to be stuck in my head for a week."
"We better go before you start singing along then."
"Good idea."
It was so easy to slide back into the old banter, into the comfortable give and take of comradery, but when Noah turned off the car in Mer's driveway and sat staring at the steering wheel for a heartbeat too long, Mer reached out and pinched his arm, hard.
"Don't overthink it, Boozer," she warned.
"Huh?"
"Step away from the ledge," she demanded, monotone.
"Mer . . ."
"Turn off the fart factory," she droned.
"The fart factory?"
"I can hear your brain farting all the way over here, and it stinks."
"Oh. Gotcha," he said, a smile making the word lift at the end. "I adore you," he confessed.
"And I adore you, Boozer."
"Red, red wine, I love you right from the start," Noah clipped in reggae rhythm.
"Right from the start, with all of my heart." Mercedes answered, mimicking the cadence.
"Goodnight, Mer."
"Goodnight, Noah." She climbed out and shut the door, and he could hear her singing all the way up the walk, waving as she went.
"I really hate that song," Noah sighed to himself, but he was smiling as he pulled away, the fart factory extinguished.

★¸¸.•*¨*•★ Buy The Smallest Part TODAY ★¸¸.•*¨*•★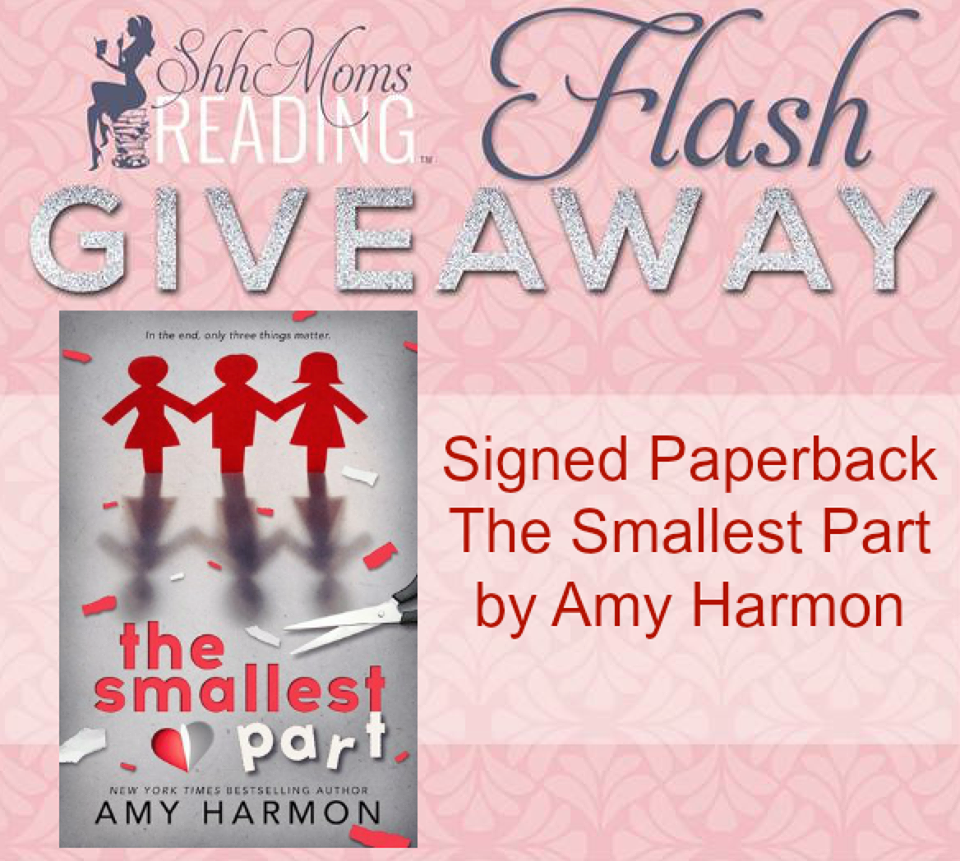 ★¸¸.•*¨*•★ Signed Paperback Giveaway The Smallest Part by Amy Harmon ★¸¸.•*¨*•★
Visit our Facebook page HERE to enter the giveaway!
The Smallest Part is one of the few books to get 5 stars from both of us!