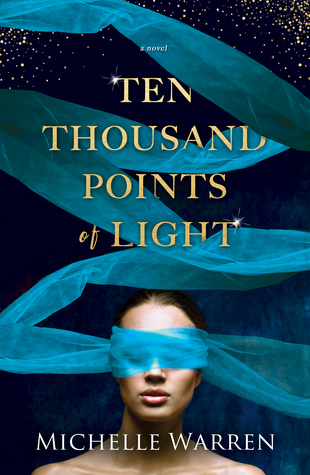 Ten Thousand Points of Light

by Michelle Warren
on October 18, 2017
Goodreads


Five years ago an unthinkable tragedy slashed Cait London's life into two parts: before she had amnesia and after.

Determined to keep her past hidden and start over, she moves to Chicago and plunges into a new job—all while keeping a walled distance from everyone she meets. But it's not long before Cait reconsiders her solitary existence, and soon she's stepping beyond her boundaries and taking unthinkable chances, like crushing on her impossibly sexy landlord, Evan Wade. He's flirty, annoying, and with him living in the same apartment building, she can't stop thinking about him. If she can sleep with him once, perhaps she can get him out of her system. The problem is, Evan seems bulletproof to her advances. As the two develop a connection, it becomes clear Cait may not succeed before her heart remembers what it feels like to love.

Ten Thousand Points of Light is an immersive contemporary romance about the intensity of first loves, the heartache of loss, and the power of forgiveness.
We have an exclusive excerpt from Ten Thousand Points of Light and a signed paperback giveaway open to US applicants only. This is a beautiful love story that is a #TopFave2017.
Ten Thousand Points of Light is a hard book to review because I truly don't want to give anything away.
From the blurb, you know that Cait London's life changed drastically 5 years ago to before and after amnesia.
The reader will journey with Cait as she is trying to navigate her life, her friends, and her career—as she is trying to remember who she once was while still keeping herself at a distance from those that she meets.
But there is something about her landlord Evan Wade that she is drawn to though Evan tries to push her away time and time again. But she just wants one night—to get him out of her system—but will one day be enough?
'I could learn to love this smart-ass mouth for their special bedroom skills alone.'
I have to say that I loved their bantering—they really made me laugh—but more than that I loved their seamless connection and how drawn to each other they were. I loved Cait as a character because despite her insecurities and doubts, she does open up bit by bit to her small circle (secondary characters who I absolutely LOVED!) and though she doesn't remember who she once was, the reader sits front row as she slowly remembers who she was before. And while a part of me figured out a piece of her past before we learn what happened, I have to say that everything that transpired still shocked and awed—my jaw dropped, I got goose bumps on my arms, and I most definitely cried. All the events that happened so real, so raw, and so very painful 🙁
EPIC in every single way… this is a beautiful story of a love so strong and so pure… a story of fate… a story of a loss so profound that it will gut you… but the love—that soulful forever love will repair you in all ways and your heart will feel such complete and utter joy. Ten Thousand Points of Light is romance at its finest. Readers looking for something unique and different—something outside of the box—that will touch your heart and soul completely should pick up this book right away. This is without a doubt a top fave of 2017!
"The truth is, Cait,

I do want you. Very badly."

My mouth parts. A moment ago I was ready to run from

this apartment, but now his admission holds me prisoner.

His honest words twine through my insides, rooting me to

his gaze, making it impossible to look away.

"So take me," I whisper.

In my bathroom, a man kneels on the floor inspecting a gigantic hole of exposed pipes with the roaming beam of a flashlight. I fold my arms and lean into the doorframe.
When I left to meet Aggie everything was functioning. My gaze examines the small room, picking out details: my expensive towels soak up a deluge of water pooling on the tiled floor; there's a large pile of powdery, crumbled drywall; and then there's the issue of ass crack—in my face. It is toned and tight, but still, it's connected to my landlord, Evan Wade.
"Pipes burst, leaking a damn waterfall into 5A," he says, not bothering to glance my direction.
"Did you have to use my good towels?" I purse my lips.
"I thought about using your sexy lingerie." He eyes the laundry basket of delicates now sitting on top of the sink. "But the fancy towels seemed like a better option."
"Thanks, appreciate it." I sidestep him, snatch the basket, and carry it to my bedroom, hiding it in my closet. If he had scrutinized it closer, which he probably did, he would have found an embarrassing amount of granny panties and more sports bras than a Lululemon.
"How long before it's fixed?" How long before I can get rid of you?
"A week," his muffled voice answers.
"What?" I race back only to find his sharky grin. Two vertical dimples slice beneath a permanent mocha-colored five o'clock shadow. They punctuate his bronzy sun-kissed skin, making his caramel eyes gleam with amused delight. My gaze intensifies.
"Just kidding. And you forgot this one." Evan tosses me a ball of fabric. I catch it and glance at it. My mouth drops open. A smiling kitten stares back from the crotch of a pair of panties. Pussy panties. My cheek temperature flickers between sweaty hot and icy cold.
"Meow." He chuckles.
I shove Aggie's gag gift into the pocket of my running pants. "Funny." I deadpan to appear unaffected.
Still, Evan seems thrilled for tormenting me. It's something he's excelled at since the day we met. It may be I'm still tipsy from drinking, but at recalling his history of irritating jokes, I pause. I cock my head and stare at him in confusion when a doubtful revelation hits me. Is this what Aggie was talking about? Is Evan flirting with me? Has he been flirting all this time?
I shake my head. Impossible.
"It's too late to get the parts I need. So tomorrow." He wipes his dirty hands on one of my towels, leaving a dark streak. I bite the inside of my cheek to stop from scolding him.
"That's not going to work. I have an appointment first thing in the morning and I need a shower." I gesture to my sweaty T-shirt.
"No kidding, Cat, I can smell you from here."
"It's Cait, you ass." I kick off my loose sneaker, tossing it with my toe in his direction. I aim to nail him in the head but he dodges away. The shoe ricochets off the wall, tumbling to the floor.
His grin widens. "I'm kidding, Miss London. You smell like roses, as always."
"Seriously, what am I going to do?"
"Can't you use Gusterson's shower?" He quirks a surly lip because he already knows the answer—no. Mr. Gusterson lives across the hall, but I've never seen the man. I'm unsure anyone has.
For this comment, I kick my other shoe in his direction.
"Ow!" This one smacks his sizable bicep, protecting his handsome face. I suppress a triumphant smile.
Evan crouches and stands in one fluid motion of sinewy muscle. He meets my gaze, and then rakes a hand through his tousled chestnut-colored hair. "Fine. You don't have to beg, Kitty Cat, you can use mine." He puffs his chest and flashes his brilliant white grin.
Purchase Ten Thousand Points of Light TODAY!

**Giveaway now over – Congrats to Lisa Rutledge**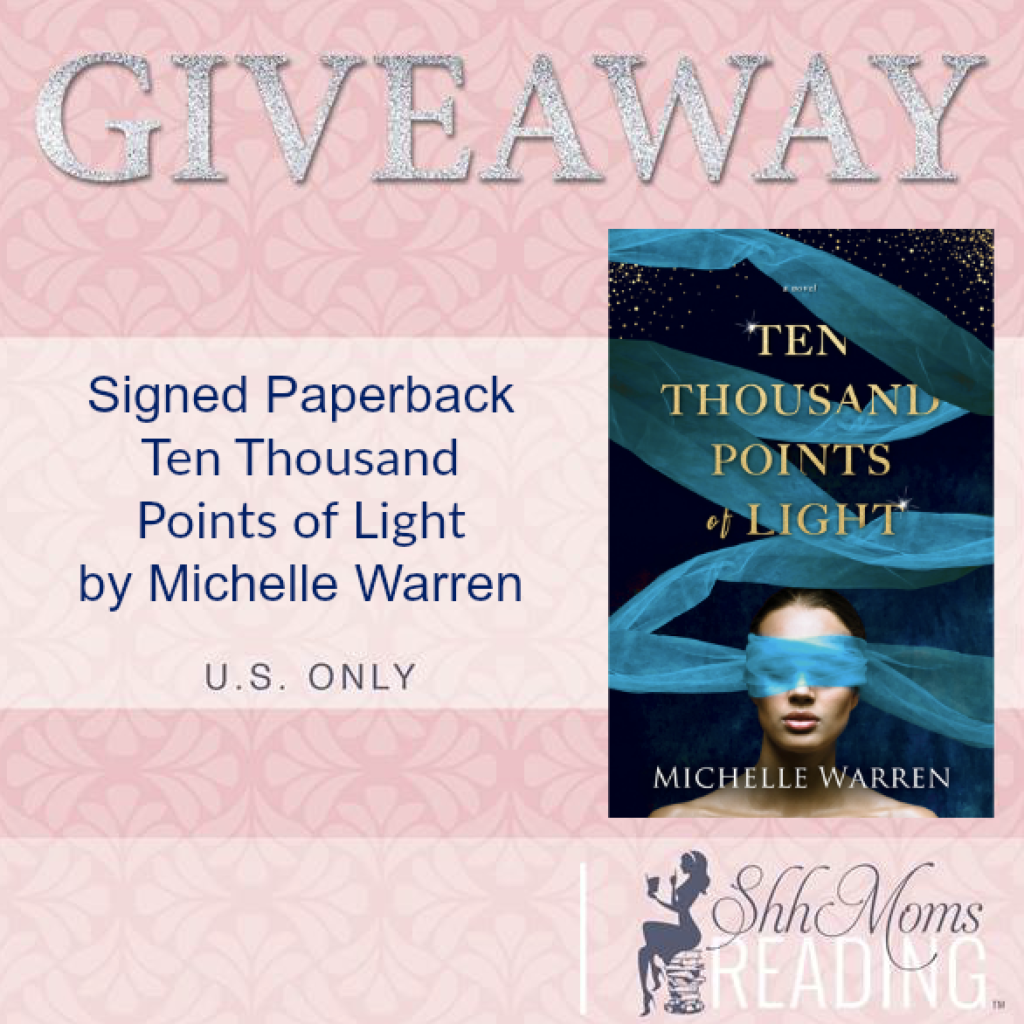 Enter to win a signed paperback of TEN THOUSAND POINTS OF LIGHT (US only)!
All you have to do is share the giveaway of Ten Thousand Points of Light on your social media (Facebook, Twitter, Instagram). Sample message below:
I entered the Ten Thousand Points of Light #Giveaway @shhmomsreading @MMichelleWarren #EpicLoveStory #TopFave #5Star http://amzn.to/2yNfjEP
Please make sure to post a link to your shares below (the more you do the more chances to win!). One winner will be chosen Thursday, November 2nd. Thank you for sharing!