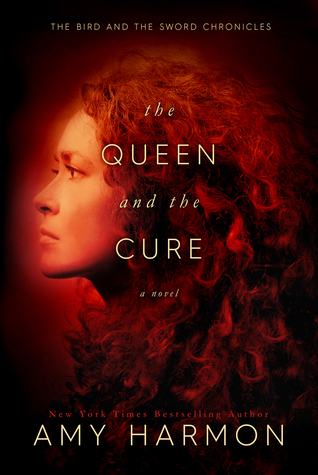 The Queen and the Cure

by Amy Harmon
on May 9, 2017
Buy on Amazon, Buy on B&N, Buy on iTunes, Buy on Kobo
Goodreads


"There will be a battle, and you will need to protect your heart."

Kjell of Jeru had always known who he was. He'd never envied his brother or wanted to be king. He was the bastard son of the late King Zoltev and a servant girl, and the ignominy of his birth had never bothered him.

But there is more to a man than his parentage. More to a man than his blade, his size, or his skills, and all that Kjell once knew has shifted and changed. He is no longer simply Kjell of Jeru, a warrior defending the crown. Now he is a healer, one of the Gifted, and a man completely at odds with his power.

Called upon to rid the country of the last vestiges of the Volgar, Kjell stumbles upon a woman who has troubling glimpses of the future and no memory of the past. Armed with his unwanted gift and haunted by regret, Kjell becomes a reluctant savior, beset by old enemies and new expectations. With the woman by his side, Kjell embarks upon a journey where the greatest test may be finding the man she believes him to be.
Happy Release Day to Amy Harmon and her new book THE QUEEN AND THE CURE! Read below for the reasons why Christine LOVES this book so much and enjoy a sneak peek into the book with an exclusive excerpt below. You will fall in love with these characters as much as I did – I PROMISE!
If there is one author who writes poetic beauty time and time again, it would be Amy Harmon. ALWAYS. The Queen and the Cure was even BETTER than The Bird and the Sword and I loved that book too. Ms. Harmon manages to take my breath away with her writing and these books are my favorites of hers to date.
The Queen and the Cure is the story of Kjell of Jeru (he is the the brother of King Tiras who we met in book 1). Kjell has never wanted to be king and is content being Captain of the Guard of Jeru. Kjell also has a special gift and is a healer.
This healing power comes in handy when he comes across a woman—Sasha—and he restores her to good health. Reluctantly he takes her with him on his travels and back to his home and in doing so forms a bond that was written in the stars.
Now I can't tell you more because I honestly don't want to ruin the story for you. This is a story that you need to live and experience on your own because IT IS SO SO SO FREAKIN' GOOD! I will however share some of my thoughts with you…
Sasha's loyalty, her will, her strength, and her heart were my favorite things about her… she is one of my favorite heroines ever!
Kjell's songs, his protective nature, his love, his devotion, and oh my goodness his words made me fall completely in love with him over and over and over again.
The world building in this series is magnificent.
Ms. Harmon has the ability to bring the reader into the story so that we are living in the moment. I was transfixed by the beauty of her words and left speechless by this unique and utterly emotional story. I have read other books by Ms. Harmon and delving into fantasy is something different for her but her talent, her mesmerizing prose, and her exquisite stories show me time and time again that she can do it all. I will admit that there were a couple of scenes in this book that I teared up because the powerful words and emotions just touched my heart and soul completely. This book is a beautiful masterpiece.
I know I am gushing… I know I am not saying anything more about the book but JUST READ IT! I promise you WILL LOVE IT!
I am in complete awe of Amy Harmon… The Queen and the Cure is one of the BEST BOOKS I have read this year and I can't wait to read more in this series—I am completely addicted to Ms. Harmon's words <3

She turned and walked into her room, and he followed, shutting the chamber door behind them. She perched on the edge of her bed, her hair pooling around her, reminding him of the day she stood in the rain, battered and bedraggled, clinging to her clothes while he clung to his resistance.
He sank to his knees before her, abandoning his resistance completely, and she drew him to her, cradling his head in her lap, and stroking his hair.
Still kneeling in front of her, he wrapped his arms around her hips and drew her from the bed and into him, connecting them from their knees to their noses, his arms supporting her weight. For a moment she hovered slightly above him, her hands braced on his shoulders, eyes searching, wanting but waiting, until the exquisite became the excruciating, and he wound one hand in her hair, lifted his chin, and pulled her to him, mouth to mouth.
He kissed her, taking her to the floor because he was too overcome to stand, clinging to her body because he was too undone to go slow. The storm pounding in his limbs and in his belly began to build in his heart, seeping through his skin and gathering in the corners of his eyes. He wanted to weep. It was the strangest sensation, the most puzzling reaction he'd ever experienced. He wanted to lay his head on Sasha's chest and weep.
Instead he breathed against her lips, withdrawing enough to move his mouth along the delicate bones of her collar, over the swell of her breasts, before he paused, his eyes closed, his forehead pressed to her abdomen.
He was happy. The feeling surged through him, an echo of the swelling he'd felt when Sasha had told him his kisses made her joyful. He was . . . happy. And he wasn't killing anything. There wasn't a sword in sight or a birdman in the sky. He was lying on a stone floor with Sasha in his arms, her hair twined around them, her hands on his face, her heart pounding beneath his cheek, and he was perfectly and completely happy.
"There once was a man named Kjell of Jeru who could pull trees from the ground with his bare hands," he began, not even knowing exactly what he was going to say.
"So he was a very strong man?" Sasha asked, not missing a beat.
"Yes. The strongest."
She laughed softly, the tremor making her body move against his.
"He could wrestle lions and toss bears and once killed ten birdmen with his bare hands. But the man was lonely. And his heart was dark."
"Not so dark," she murmured.
"Shh. It is my story."
She pinched him and he rose up to kiss her again, punishing her mouth with his lips and his tongue, unable to help himself.
After a breathless moment he withdrew, panting, his eyes still on her mouth, even as he tried to refocus his thoughts. Sasha's eyes pleaded and her lips begged, and he knew if he didn't continue with his story now, there would be no more conversation.