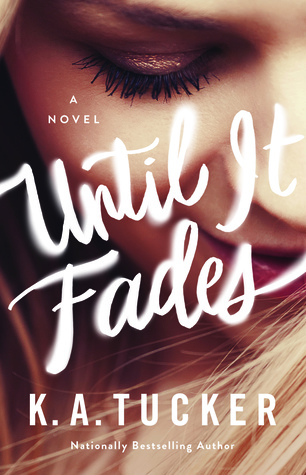 Until It Fades

by K.A. Tucker
on June 27, 2017
Buy on Amazon, Buy on B&N, Buy on iTunes, Buy on Kobo
Goodreads


Twenty-four-year-old truck stop waitress and single mother Catherine Wright has simple goals: to give her five-year-old daughter a happy life and to never again be the talk of the town in Balsam, Pennsylvania: population two thousand outside of tourist season.

And then one foggy night, on a lonely road back from another failed attempt at a relationship, Catherine saves a man's life. It isn't until after the police have arrived that Catherine realizes exactly who it is she has saved: Brett Madden, hockey icon and media darling.

Catherine has already had her fifteen minutes of fame and the last thing she wants is to have her past dragged back into the spotlight, only this time on a national stage. So she hides her identity. It works.

For a time.

But when she finds the man she saved standing on her doorstep, desperate to thank her, all that changes. What begins as an immediate friendship quickly turns into something neither of them expected. Something that Catherine isn't sure she can handle; something that Catherine is afraid to trust.

Because how long can an extraordinary man like Brett be interested in an ordinary woman like Catherine…before the spark fades?
This is the 2nd book I have read by this author. I LOVED the suspense and intrigue of He Will Be My Ruin and while I knew that this was different from that book and more on the romance side, after reading I felt that this book was just ok.
Catherine Wright started off on the wrong foot as a teenager having an inappropriate student/teacher romance. Being in the limelight for her relationship wasn't something she ever wanted to experience again until it came to the night that she singlehandedly rescued a man from a burning car.

And not just any man but hockey great Brett Madden.

Catherine is trying to make ends meet while being a single mother to her daughter Brenna and she is not ready to be thrust into the spotlight again.

But Brett makes her feel things, want things that she has pushed back into the recesses of her mind. And what begins is a journey into healing for both—emotionally for Catherine and physically for Brett but more than that a look into a different future than either predicted would happen after that one fateful night.

So I enjoyed the last 60% or so because readers will finally get to see some of the romance though to be quite honest, it wasn't enough and I wanted more. I didn't feel these characters connections and I wanted to so so badly. There were so many times that while Brett said his feelings weren't based on his gratitude to her for saving his life that I couldn't help but feel like it was because they never really had a chance to get to know one another, or really talk outside of their first meeting and him thanking her for saving his life. How could feelings really grow from one encounter?

And while I initially liked Catherine's backstory and her strength, at times I was bored and the story just felt repetitive.

Yes, I loved the fairytale aspect—the rich guy coming in to save his Cinderella of sorts type of story but I just wanted more depth to the story, emotions and feelings from the characters, less repetition and that little something special to make me fall in love with every written word. This sadly was missing for me for this one 🙁
That being said, I look forward to reading more books from this author. Maybe it's just me and you will love it!