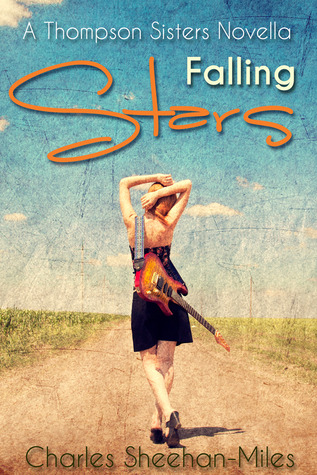 ---
4 STARS!!!
Synopsis
Crank Wilson and Julia Thompson love each other madly. But after Crank's huge mistake during the summer, on the road with Crank's rock band Morbid Obesity, they aren't getting along.
Sean Wilson and Carrie Thompson are the seventeen year old younger siblings of Julia and Crank. Carrie is on her way to New York to start college at Columbia University and Sean is on his way home to Boston. For the next five days, they're stuck in a car. Along the way, they'll contend with screaming matches, giant spiders and a 240-pound pissed off Marine.
And the whole way, Crank will be faced with one question. After he screwed up so badly, is there any way he can win Julia back?
Denise's Review
Falling Stars is a novella that fills in the gap between book 2 A Song for Julia and book 1 Just Remember to Breathe because timeline wise book 2 takes place before book 1. I know, I know it sounds odd, but trust me it works!
So before you read Falling Stars you must read A Song for Julia (you do not have to read Just Remember to Breathe).  Please note: this is a short novella hence the short review.
Crank Wilson and Julia Thompson the subjects of A Song for Julia are madly in love when A Song for Julia ends and Crank's band, Morbid Obesity, is poised for great success.
Falling Stars is the story about their trip back to the East Coast after their summer tour.
Julia and Crank are accompanied on this road trip by Sean Wilson, Crank's younger brother, a young man with Aspergers who I adored in book 2 and Carrie Thompson, Julia's younger sister, who is on her way to college on the East Coast.
There is a brief stop at the Thompson house; this scene was well done and offered some interesting glimpses (yes Sean is a very observant young man).  I am going to pause here and say I love Sean even more; his character was so well done; he added to the story and had me wishing for a happy for Sean as well.
Touring is not easy for Julia and Crank nor is dealing with the fact they both come from two different worlds.
This book for me became almost a very long epilogue for Crank and Julia, because if you have read the prior three books you know they are happy together; married for a number of years. But you don't know how they went from Crank going on tour and getting a record deal to married to Julia.
Falling Stars sets the stage (no pun intended) for a young couple who learns the hard way that without communication love is not enough!
I am very much looking forward to more in the Thompson series; the next book Rachel's Peril deals with Andrea Thompson (who we know little about) stepping in to help Carrie Thompson; Carrie's heart wrenching story was told in The Last Hour.
About the Author
Charles Sheehan-Miles has been a soldier, computer programmer, short-order cook and non-profit executive. He is the author of several fiction and non-fiction books, including the indie bestsellers Just Remember to Breathe and Republic: A Novel of America's Future.
---
GIVEAWAY
a Rafflecopter giveaway

Series Order
Book 1 – A Song for Julia

Book 2 – Just Remember to Breathe

Book 3 – The Last Hour

Book 4 – Rachel's Peril – COMING December 21st