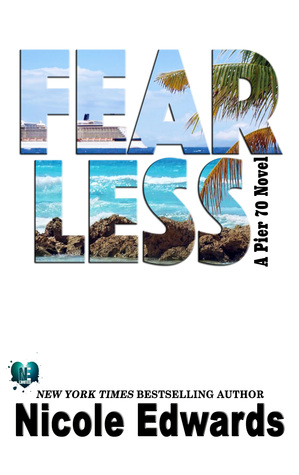 Fearless

by Nicole Edwards
on April 11, 2016
Buy on Amazon
Goodreads


He's the one who walked away...
Dare Davis, one of the four owners of Pier 70 Marina, has been living the past fifteen years of his life not taking risks. He considers himself fearless because he refuses to let anyone close enough to hurt him. He's had his heart broken before, he's not looking for it to happen again.

He's the one who let love slip through his fingers...
Noah Pearson, thirteen-year veteran of the Austin Fire Department, finds himself being roped into a favor by his mischievous stepsister. When Milly invites him to come along on a cruise to the Caribbean, he finds himself giving in. What he doesn't know is that Milly's playing matchmaker. However, Milly's surprise backfires when Noah finds himself front and center with the man who slipped through his fingers fifteen years ago.

Some people believe in second chances.
Things heat up when the mischievous, fun-loving bad boy comes face to face with this smoking hot fire fighter.

Now that Dare and Noah find themselves sharing a room on a week-long cruise, can they find a way to keep the peace and ignore their past? Or – thanks to the decisions they made long ago – will they come full circle, picking right back up where they left off?
This one had so much of what I love in a great series…getting to "visit" with the couple in the prior book, seeing their happy grow, witnessing a character you are already attached to fall in love and just enough of the secondary characters to have you anxiously waiting for the next book!
In 
Fearless,
 we get Dare Davis' happy; he's part owner of the marina and becomes the focus of this second chance romance. Dare's love interest and dual POV partner in this one is Noah Pearson.  This Austin Fireman finds himself being set-up by Milly; this made for so many funny moments. (If you read book 1, Milly is Gannon's best friend)
Milly and Dare are adorable together, the bond they forge, the relationship they built.
Speaking of Milly, her almost rant about Dare's personality and why he is an adult but can still enjoy life and have fun; how he weaves responsibly with his zest for life was not only something perfect for the story but a bit of a life lesson for the reader as well.
I will not share how Noah fits into this gang as I think that is best left for the reader to experience how it unfolds, but I will say it was so well done! And it allows Noah to have to open up about the 15 years these men spent apart.
Being a witness to Noah and Dare's attraction, their attempt to live in the same space (a small one at that – yes it will make sense when you read), their love so clear to those around them and in the end their desire to embrace present and future touched my soul!
The banter in this book was EPIC!
Dare's Gram with her "slap and tickle"  was hysterical, this woman has no filter! These scenes not only gave Dare's personality perspective it made me laugh (something that I don't think is easy for an author to accomplish).
Speaking of family, Noah's plays a key role in so much of this one!  The dinner time sibling banter had me glued to my kindle and Noah and his sibling (nope not telling you who) baiting their parents into debates about their dating lives was priceless.
Oh Hudson, this man stole my heart yet again; there was a few very powerful scenes with him.  (If you read book 1 you may remember Hudson is mute). I adored how Noah was able to jump right into the conversation and that he was able to spoke volumes to his character!  Yes, Hudson and Teague have a moment, one that so had me wishing they are next in this series.
Speaking of characters this one also brought another new man into the fold AJ. I won't tell you why or who he is related to but AJ needs a happy… oh and there is a cute weave in with an ongoing piercing joke that had me grinning from ear to ear!
The bond of friendship the men of Pier 70 share is so enjoyable to read. These men push each other, they love each other, they look out for each other; they are each others family!
Please, please Ms. Edwards, I know this is an m/m series but Milly needs a happy, even if it is just a novella; yes I am begging, I know the Pier 70 men seem to love that!
I want to close by saying if you love second chance romance this is a must click; why you ask well because in the end you will know Noah and Dare were meant to be together now!  The journey that got them to this happy made them the men they are as they move forward together forever!
I do recommend you read book 1 Reckless first as book 2 is the setting for Cam and Gannon's wedding!
♥ Read the Series ♥