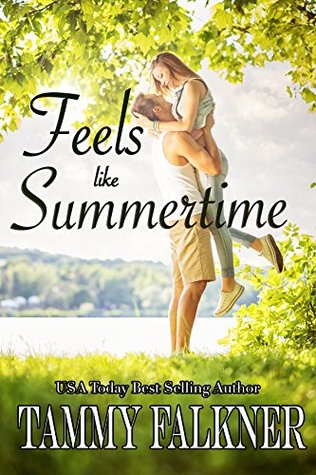 Feels Like Summertime

by Tammy Falkner
on March 28, 2016
Pages: 236
Buy on Amazon
Goodreads


Jake:

Katie Higgins was the first girl I ever loved. We spent one summer together at Lake Fisher when we were sixteen and then I never saw her again. My life is shit, my job is gone, and my dad had a stroke, so I find myself back at Lake Fisher once again. And so does Katie. Her last name isn't Higgins anymore, because Katie is married with three kids and one more on the way, but when she shows up at Lake Fisher with her kids, danger trails her all the way there. I could do a lot of things. I could leave and go home. I could stay and deal with it. But what I want most of all is just to take care of Katie. If I concentrate on her, maybe I won't have to face my own problems. Yeah, that's it. Fix Katie.

Katie:

I haven't seen Jake in eighteen years, but the moment I lay eyes on him, I feel safer than I have in a very long time. Memories swamp me every time I look out over the clear, cool water. A first kiss. A first boyfriend. A first love. That old spark is still there. I just can't act on it, and neither can Jake. Our story started eighteen years ago, and then we both made lives with other people. Jake is willing to tell me about his, but I can't share mine with him. Ever. We can be friends and spend another summer together, right? Sure, we can.
This book has so much of what I love in a great book: it pulled me in from the first page (great male POV), it kept me engaged throughout, it had me laughing, it was a wonderfully well done second chance romance and it was a new author I throughly enjoyed!
Katie Higgins and Erik Jacobson, Jr (Jake) met years ago, back when both were teenagers; this book finds their paths colliding 18 years later!
I adored that this book was told in dual POV; it allowed great insight into both of them, hearing from them in the present and their thoughts on the past! This made this such an amazing read!
Katie's children added so much to this story, Gaby, Alex and Trixie each had their own personality, each had their own way of dealing with what is currently facing their family and each forms a unique bond with Jake! Witnessing each child bond with Jake was something I loved; because if this relationship is going to work now, it is about so much more than Katie. Jake understood that is spades Oh I must add I loved the how Alex is coping and how it tied into the end of the story.
The second chance romance part was so well done as the past and the present merge together into a beautifully told story:
"Hey, Jake?"
"Yeah?" I feel that tiny little flutter under my hand again and a grin tugs at the corners of my lips.
"That day when you feel in the lake, the first day we ever met…"
"Yeah?" I wait.
"You didn't pull me in with you."
"Huh?
"I jumped."
Much of the laughing in this one came in the from of Jake's Dad, Pop was hysterical to read. He has so many funny one-liners, he called things as he saw them, yes, sometimes in an inappropriate way, and then at the end he brought a few tears to my eyes as a shared a special moment with Jake and then one with Katie.
This is one of the tamest things that Mr. Jacobson has to say:
"Why don't you take Katie up to our house and get her something dry to wear?"
"But you stay out of her room while she's changing. I'm not ready to be a grandpa."
And in the end the tie into the book title was perfect!
"To me, you feel like summertime. You feel like warm weather and sunny skies. You feel like the occasional storm, but they always pass, and they keep things interesting."