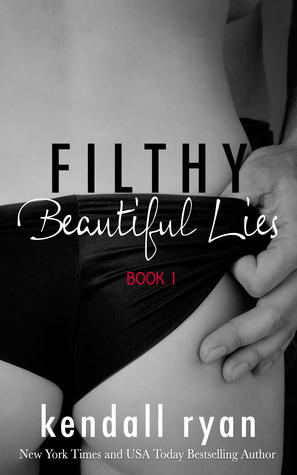 Filthy Beautiful Lies

by Kendall Ryan
on August 18, 2014
Pages: 309
Buy on Amazon
Goodreads


**Warning: this book contains an addictively filthy alpha male who will dampen your panties and own your days and nights. Proceed at your own risk.** 

Meet Colton Drake...

I have no idea why she auctioned off her virginity for a cool mill. Regardless, I'm now the proud new owner of a perfectly intact hymen. A lot of good that will do me. I have certain tastes, certain sexual proclivities. My cock is a bit more discriminatory than most. And training a virgin takes finesse and patience – both of which I lack.

Sophie Evans has been backed into a corner. With her sister's life hanging in the balance, the only choice is to claw her way out, even if that means selling her virginity to the highest bidder at an exclusive erotic club. When Colton Drake takes her home, she quickly learns nothing is as it seems with this beautifully troubled man. Being with him poses challenges she never expected, and pushes her to want things she never anticipated.

A sinfully seductive erotic romance where everything has a price and the cost of love is the highest of all from New York Times & USA Today bestselling author, Kendall Ryan
I enjoy Kendall Ryan books and this one is no different. I mean who can't be totally drawn into the story by the blurb alone – a virgin auctioning off her virginity and 6 months of her life to the highest bidder?!?!
Sophie Evans is auctioning off her most prized possession to help her sister Becca receive her treatments for Cancer. She is kind, innocent but totally lives for her sister not for herself.
Colton Drake is hot, dominant and mysterious. He doesn't want an inexperienced woman but can't help being drawn to Sophie; wanting to teach her and make her his. He doesn't push her as he wants her to want him, to want her trust. Above all, he wants her companionship. As a reader experiencing his thoughts, you can see that he is a good guy underneath but is afraid of giving too much of himself to anyone.
As these two characters live together, there are bound to be changes in feelings. I enjoyed that this wasn't instalove or that there wasn't any rush to having sex. This was a slow build up to something that could potentially be more, the way that Sophie became less scared of any kind of physical with Colton and the conversely the way that Colton reacted to Sophie as a woman and something more than what she was bought for – to be a sex slave.
Without a doubt, Kendall Ryan knows how to write foreplay and really anything physically sexy between a man and a woman and Filthy Beautiful Lies was no exception. Hot, hot, HOT!!!
As secrets are revealed towards the end and I am left feeling crazy to know more about Colton's past, I am left wanting for more. I can't wait to see how their situation plays out in Filthy Beautiful Love scheduled for release in September.
My only small complaint was that I wish it was longer – I think that this story could have been resolved in one book.  I don't mind cliffhangers or continuations if there is enough story for a second book or because the first book is lengthy but I am more of a fan of longer complete reads in all honesty. Overall this was an enjoyable read and I look forward to book 2.