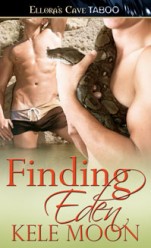 4 Stars!!!
Summary
Book two in the Eden series. Handsome, angry and spoiled, Danny Carlow struggles to find his place in the world when his hatred for authority makes survival difficult. The only thing keeping him from completely giving up and turning to a life of crime is his friendship with clean-cut Paul Mattling. More than his conscience and best friend, Paul's also the one Danny secretly pines for with every ounce of his being. Paul is a natural over-achiever with a football scholarship and straight A's to boast about. Yet he's haunted by an abusive childhood that's left him more scarred than anyone realizes. Looking for an escape from his demons, Paul has his own deviant secrets, ones he doesn't want anyone, especially Danny, to know about. When dark desires are accidentally revealed, Danny and Paul end up coming together in a clash of wild passion more tumultuous than either of them could have anticipated. Tasting the forbidden is sweet, but it turns the tables on their relationship, putting everything, even their lifelong friendship, in jeopardy. Reader Advisory: This story visits the dark side of BDSM, where the only thing more intense than the scenes the characters participate in, is the love they have for one another. Please note there is a very brief F/F encounter.
Denise's Review
This is Book two of Kele Moon's Eden series, book 1 is Beyond Eden.
This book is Prequel taking place 10 years before Beyond Eden.
PLEASE make sure to read Beyond Eden first!
Finding Eden provides the start of the backstory to Danny Carlow and Paul Mattling's relationship. You learn more about each men's childhood; Paul being the football star working hard to be the perfect son to an abusive father; while Danny handsome, edgy and willing to battle authority at every turn.
After the Paul's girlfriend Eve leaves for New York he is left without his anchor, the only person he ever allowed to be kind to him. Paul turns to dark side of BDSM something he does not want to share with Danny for fear of what he will think of him.
In this early exploration of Paul's pain fetish which is laid out in the first book he puts him in dangerous situations.
This book starts to show reader how Danny and Paul's life long friendship developed from best friends to Paul wanting Danny to be his Master. You get a glimpse into how Danny becomes who he is in book 1 Beyond Eden. Danny is forced to take a good look at himself and is pushed to the limit of what he would do his keep his friend safe.
Overall, the story was an enjoyable and quick follow-up read to Beyond Eden.
I do have to say I was disappointed with the end. This book does not cover the full 10 years between book 1 and 2, it leaves off at critical part and the readers now need to wait until book 3 Claiming Eden to fill in the gaps.
I am anxiously waiting Claiming Eden as I saw a few inconstancy in book 1 and 2 that I will hope be cleared up in book 3. I
could not give it more than 4 stars because of that, as it felt like only part of the story.
Having said that I truly hope Ms Moon writes a book that takes place after Beyond Eden; I would really like to read about Danny, Paul and Eve, happy with their life a threesome each with their own place in the relationship and in their world.
Reader Warning: This story like the prior book contains a few dark violent scenes.
I was provided a free copy of this book in exchange for an honest review.
About the Author
A freckle-faced redhead born and raised in Hawaii, Kele Moon has always been a bit of a sore thumb and has come to enjoy the novelty of it. She thrives on pushing the envelope and finding ways to make the impossible work in her story telling. With a mad passion for romance, she adores the art of falling in love. The only rules she believes in is that, in love, there are no rules and true love knows no bounds.
So obsessed is she with the beauty of romance and the novelty of creating it, she's lost in her own wonder world most of the time. Thankfully she married her own dark, handsome, brooding hero who has infinite patience for her airy ways and attempts to keep her grounded. When she leaves her keys in the refrigerator or her cell phone in the oven, he's usually there to save her from herself. The two of them now reside in Florida with their three beautiful children, who make their lives both fun and challenging in equal parts—they wouldn't have it any other way.
Twitter Kele_Moon
Website http://www.kelemoon.com
Facebook http://www.facebook.com/kelemoon