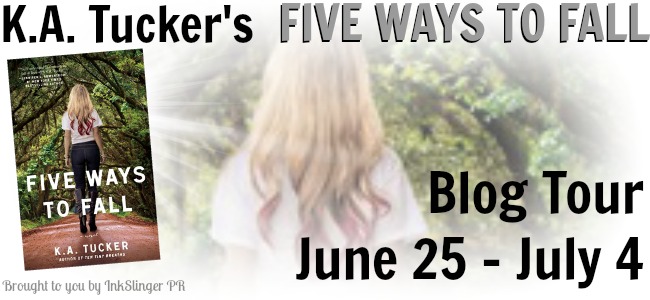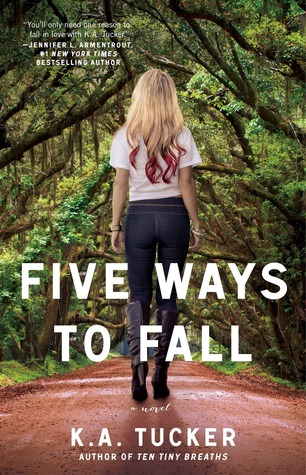 Today we welcome K.A. Tucker to our blog as she celebrates her new book FIVE WAYS TO FALL! Make sure to enter the giveaway below – Good luck!
---

Purple-haired, sharp-tongued Reese MacKay knows all about making the wrong choice; she's made plenty of them in her twenty-odd-years. So when her impulsive, short-lived marriage ends in heartbreak, she decides it's time for a change. She moves to Miami with the intention of hitting reset on her irresponsible life, and she does quite well…aside from an epically humiliating one-night stand in Cancun with a hot blond bouncer named Ben. Thank God she can get on a plane and leave that mistake behind her.
Football scholarship and frat parties with hot chicks? Part of charmer Ben Morris's plan. Blown knee that kills any hope of a professional football career? So not part of the plan. Luckily Ben has brains to go with his knockout looks and magnetism. After three long years of balancing law school with his job as a bouncer at Penny's Palace, he's ready to lead a more mature life—until his first day of work, when he finds himself in the office of that crazy, hot chick he met in Cancun. The one he hasn't stopped thinking about.
If Ben truly were a smart guy, he'd stay clear of Reese. She's the boss's stepdaughter and it's been made very clear that office romances are grounds for dismissal. Plus, rumor has it she's trouble. The only problem is, he likes trouble, especially when it's so good-looking…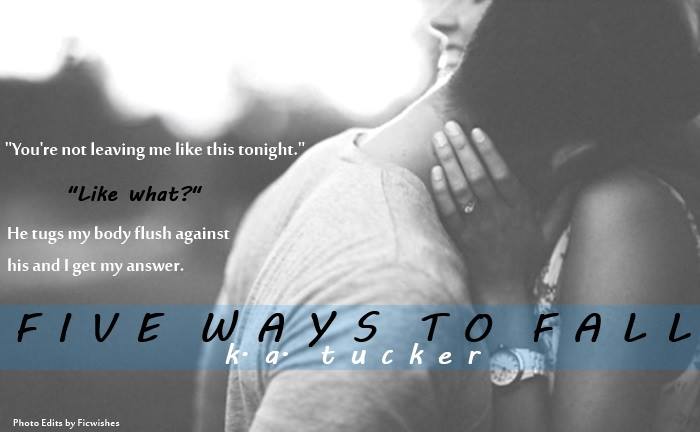 I have wanted to know more about Ben since book 1, Ten Tiny Breaths so Thank you Ms. Tucker for writing his story! This story did not disappoint; actually it delivered more than I expected as I fell in love with most of the Morris Family, Mrs. Morris and all her children (P.S. not Mr. Morris and you will understand that when you read the book).
Five Ways to Fall can easily be read stand alone, and although I opened the book wanting Ben's story, I think this book will have a new reader engaged early on.  The first meeting between Ben and the purple haired girl in Mexico is fun and at times laugh out loud.
Five Ways to Fall tells the story of Reese MacKay and Benjamin Morris.
I truly loved how Ben and Reese are brought together. The story behind Reese finding herself inside of a law firm is so well done, it allows the reader to understand her and for me it so had me rooting for her to find a way to find love moving forward. Reese also had me rooting for her to get her life on track; to accept the help offered and to run with it. Watching Reese succeed professionally made me happy; this young lady found a place to carve her own niche and it truly allows the reader to see her in a different light than the image first painted of her.
Yes, the reader knows early on that Ben is moving forward with his life; departing life as a bouncer and starting in a law firm with the degree he has worked so hard to attain but how Ms. Tucker achieves that is really well done. Ben did not intern as he was working at Penny's so the how Ben ends up at this particular law firm layered the book in way that was masterfully used throughout.
It does take Reese some time to move from her past, but given the hurt layers with her childhood experience it does make sense for her character as does Ben's initial comments about not wanting a relationship.
Speaking on pasts, yes, Ben's prior work at Penny's the strip club from book 1 makes a re-appearance; yes I wanted to throttle Ben but it works in the context of the story and who each character was in that moment.
As I opened this review with I loved Ben's Mama, Wilma and in the end I truly fell in love with most of the Morris family. And for that matter Reese's stepbrother Mason and stepfather Jack.
Mr. Morris is a whole other story, I was not a fan and I doubt you will be either. But I should say this part of the story truly allows the reader to understand Ben.
The Morris family experiences a tragic event, one that was years in the making and I do want to say that as someone with this event close to their heart it was really well done! The event felt true to the story and the aftermath was tastefully handled and I felt accurate to the characters portrayed.
By the time Ben and Reese embraces their feelings for each other, the reader and those around them in the story will feel it too.  It warmed my heart.
The resolution and answers Reese obtains about her childhood were really well done; seeing Ben support Reese through this and watching Reese learn the past and confront the present make me know Reese is truly ready to move forward with Ben.
I adored the epilogue, the reader not only gets to see Ben and Reese comfortable together you get a hint of another happy that brought a huge smile to my face!  Two beautiful people who so deserve love, find it! (nope not telling who – read the book)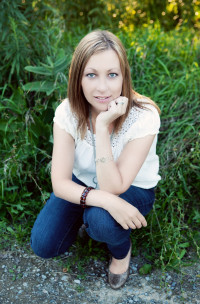 Born in small-town Ontario, Kathleen published her first book at the age of six with the help of her elementary school librarian and a box of crayons. She is a voracious reader and the farthest thing from a genre-snob, loving everything from High Fantasy to Chick Lit. Kathleen currently resides in a quaint small town outside of Toronto with her husband, two beautiful girls, and an exhausting brood of four-legged creatures.
---
Series Reading Order
Book 1 – Ten Tiny Breaths

Book 2 – One Tiny Lie

Book 3 – Four Seconds to Lose

Book 4 – Five Ways to Fall

Pre-Order In Her Wake (a novella releasing 9/1/14)