by Ainsley Booth


So Ainsley Booth is a new author to me – an author that peaked my interest when I saw my blogger friend Angie (from Angie and Jessica's Dreamy Reads) fangirl over her books big time. As you know, it was a goal of mine this year to try new authors and I am SO HAPPY that I read these books. Check out my review below for Hate F*@k and Booty Call and see why Ainsley Booth is an author to add to your MUST READ list!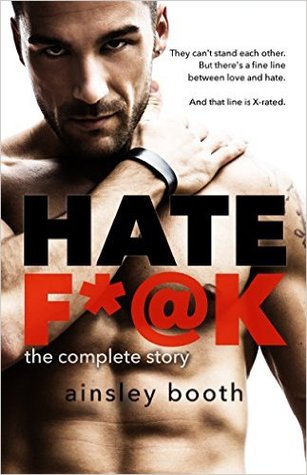 Cole:
I push her buttons. I want to push them in the good way. Dirty, up-against-the-wall, my-hand-in-her-pants kind of way.
But that's not possible, because I'm dark and she's light, and we both know it.
So I push her buttons in the bad way, making her hate me.
Hailey:
If a genie granted me three wishes, I'd ask for Cole Parker to never look at me again, that I'd forget the dark promise in his eyes, and that just once, before he vanished from my life completely, that he'd push me up against a wall and make me scream.
Then I'd go wash my mouth out with soap.
This story was originally published in a three-part serial. Those are included, as well as a bonus postscript section at the back with two additional scenes.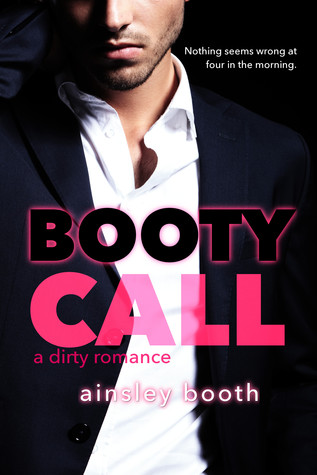 I know what I'm doing when I text Scott at four in the morning.
He knows what I'm doing, too.
That's why he shows up twenty-three minutes later, freshly showered with a condom in his pocket and a barely dissolved breath mint on his tongue.
I smirk as he looms over me. "You are such a dirty old man."
"We need to stop doing this."
"Why?"
"Because you're twenty-one and I'm not. Because I want to take you on a f***ing date and you won't. Because we wind up yelling at each other half the time."
"But the rest of the time you're inside me and it feels so good, right?"
His eyes darken and I don't need to look down to know he's hard for me.
*** THIS IS A STANDALONE BOOK, no cliffhangers, no serials, just lots and lots of omg you need to read this freaking NOW ***

WOW! So Angie wasn't lying…What I love about Ainsley Booth's books was that the reader will get more than just the heat factor…there were real stories behind both books and both came at the right time when I needed something sexy, fun and captivating.
So while these books can be read as standalones, I enjoyed reading them back to back as the characters were introduced first in Hate F*@k and then different characters received their own story in Booty Call.
So what are these books about in a nutshell without making this review too long?
Hate F*@k is the first book about the men of the Horus Group. The men in this group are hired when the reputations of the rich are tarnished and they swoop in to fix said reputations and help put the people back in the good graces of society.
Cole and Hayley meet when Hayley's dad hires Cole to take care of her older sister Taylor, who is the midst of a political scandal. Though they both act like they absolutely hate each other, the reader can sense the underlying attraction and heat that is between them.  Watching Cole open up to her and to open his mind to love was amazing and the fact that there was an element of suspense that kept me on my toes was really intriguing. Because I read this serial as a whole at one time rather than when it was released in smaller pieces, I got to see the bonus epilogues which were the perfect ending and put a smile on my face.
Onto Booty Call…
Now I read this one first…and this book solidified why Ms. Booth is a new author that I will continue to read.
This is the story of Alison and Scott, her sister's bodyguard. Alison is a virgin and just looking for her hookup. She doesn't want a relationship and just wants to have fun. Too bad at first that Scott isn't interested (or pretends to not be interested!) Ali is 14 years younger than Scott and while there is that huge age difference, I thought that Ali was intelligent and beyond her years. The more that Scott is around her, the more he doesn't want to resist her. I loved the push and pull between these characters and when they finally started to connect in more than just the physical sense, WOW! They were the perfect match.
Now while I enjoyed this one, it was a tad bit too short for me and I would have liked to feel more of the emotions…I liked the characters but would have enjoyed them even more if they were more developed and if I could delve deeper into their souls. Yes, this book was hot but I was missing the emotional piece.
Both books were 4 star reads for me and I look forward to read more about the men of The Horus Group!