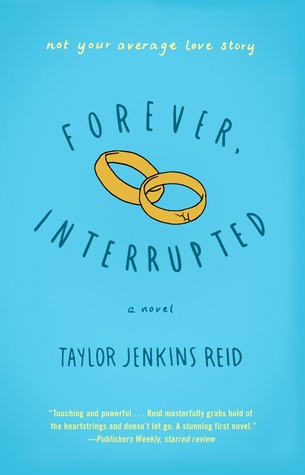 Forever, Interrupted

by Taylor Jenkins Reid
on July 9, 2013
Pages: 352
Buy on Amazon
Goodreads


Have you ever heard of supernovas? They shine brighter than anything else in the sky and then fade out really quickly, a short burst of extraordinary energy. I like to think you and Ben were like that . . . in that short time, you had more passion than some people have in a lifetime.

Elsie Porter is an average twentysomething and yet what happens to her is anything but ordinary. On a rainy New Year's Day, she heads out to pick up a pizza for one. She isn't expecting to see anyone else in the shop, much less the adorable and charming Ben Ross. Their chemistry is instant and electric. Ben cannot even wait twenty-four hours before asking to see her again. Within weeks, the two are head over heels in love. By May, they've eloped.

Only nine days later, Ben is out riding his bike when he is hit by a truck and killed on impact. Elsie hears the sirens outside her apartment, but by the time she gets downstairs, he has already been whisked off to the emergency room. At the hospital, she must face Susan, the mother-in-law she has never met;and who doesn't even know Elsie exists.

Interweaving Elsie and Ben's charmed romance with Elsie and Susan's healing process, Forever, Interrupted will remind you that there's more than one way to find a happy ending.
I have been dying to read this book FOREVER and finally had a free moment in my reading schedule to do so. After reading After I Do, I am a huge Taylor Jenkins Reid fan and Forever, Interrupted once again shows me the magical way that Ms. Reid is able to captivate a reader in her story with her well crafted characters, her beautiful writing and a unique love story that will forever stay in my heart.
Forever, Interrupted tells the story of Elsie Porter and Ben Ross. A story about a love so new that ended far too soon. You see, Elsie and Ben had an epic kind of love…a love that within 6 months was so strong that they knew it was forever thus they sealed the deal by getting married. And within 9 short days of being in wedded bliss, Elsie loses Ben in a tragic accident that will change her life forever.
What makes this story even more unique and different is that it's not simply a love story between Ben and Elsie but also a look at the relationship between Elsie and Susan, Ben's mother, who never knew that her son had eloped and that he had a wife. These two women meeting at the hospital after Ben is pronounced dead and having to deal with not only the grief of losing someone so special to each of them but having to also get to know one another and navigating their way through mistrust and anger and all the emotions that surrounded their interactions.
Forever, Interrupted is told in alternating past and present POV's so we get a look at Elsie and Ben's courtship and how they met and fell in love and present day where we watch Elsie and Susan's grieving his death.
I'll be honest and say that I fell in love with Ben at pretty much hello. So confident, charming, secure and with a heart of gold, I could see why Elsie fell so hard so quick as I was smiling at every conversation and every interaction. He made me feel giddy and happy and my heart was just bursting with the love and sweetness that radiated from every page.
In contrast, the present day POV where we are living the grieving period really gave me chills…I could feel Elsie's loneliness and sadness…this for me was so realistic and felt so true to what I imagine it would feel to lose someone that you love so much.  Within the present day chapters and having to see Susan's reactions and conversations with Elsie, I will be honest and say she really angered me. Her treatment of Elsie really broke my heart and I couldn't help but wish that they would somehow be able to work through their differences to get along, to be able to celebrate the life of a man that they both loved and treasured.
Forever, Interrupted is ultimately a story of healing and finding your way to living again…how it all comes together for Elsie and Susan, I won't tell you because you need to experience this journey for yourself. But I will say this….Taylor Jenkins Reid has a true gift. In both books that I have read from her, she has truly captured the beauty of love. Not only with soulmate kind of love but love between friends and family. She has masterfully filled my heart again and again with the beauty of her words. Anyone looking for their next epic love story…look no further. Taylor Jenkins Reid is an author everyone should have on their must read list.
"There's a huge hole in my heart where you used to be. When you were alive, I used to sometimes lie awake at night and listen to you snore and I couldn't believe how lucky I was to have found you. I haven't wanted to be whole again without you. I thought that if I were okay, it meant that I had truly lose you but…I think if you heard that logic you'd think I was an idiot. I really do think you'd want me to be happy again someday. You'd probably even be a little mad at me for all the wallowing I've done. Maybe not mad. Frustrated. You'd be frustrated. Anyway, I'm going to do better. I could never forget you, Ben. Whether we were married right before I lost you or not, in the short time I knew you, you worked your way right into the soul of me. I am who I am because of you. If I ever feel one tenth as alive as I felt with you…" I wipe a tear from my eye and try to gain control of my wavering voice. "You made my life worth living. I promise you I am going to do something with it."