Chasing Abby (Shattered Hearts #4)

by Cassia Leo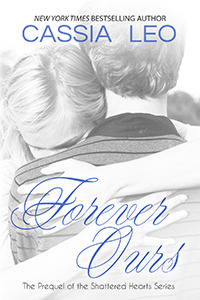 Forever Ours is the highly anticipated prequel to the New York Times and USA Today bestselling Shattered Hearts Series.
Sometimes, it takes more than love to mend a shattered heart.
After eight years of being tossed around from one home to another, never forming any meaningful friendships or bonds with her foster families, Claire's caseworker gives her an ultimatum: Behave or your next home will be a halfway house.
When fifteen-year-old Claire arrives at the home of Jackie Knight and meets Jackie's fifteen-year-old son, tattooed guitarist Chris, she fears she'll be seeing the inside of that halfway house soon. But Chris isn't like any other guy Claire has ever encountered and he soon gains her trust through his music and unwavering patience.
Claire has finally found her forever home and she and Chris soon find themselves falling in love.
But Chris's dreams of musical stardom and Claire's need for a stable home soon put their love in jeopardy. Chris struggles deeply with his plans for the future, entirely reluctant to leave Claire behind; until Claire does something that may break their love — and the only home she's comes to know — forever.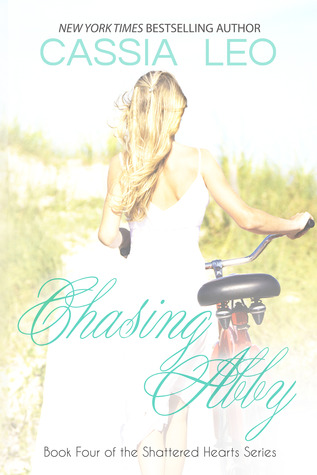 The heart-stopping conclusion to the New York Times and USA Today bestselling series.
Five years, six months, eight days….
It's been eighteen years since Abigail was born with a hole in her heart. Five years since she collapsed on the soccer field. Five years, six months, eight days since she found out she was adopted.
Abby has spent five years wondering about the family she never knew and waiting for her eighteenth birthday. When Abby shows up on the doorstep of Chris and Claire Knight, her birth parents are overjoyed to see the little girl they lost eighteen years ago.
One summer is all they have to make up for the years they lost. But when opposing ideals collide, a summer of love soon turns into a summer of heartache.


Cassia Leo is a true master at writing emotional, romantic and feel good stories..Forever Ours and Chasing Abby were no different. The Shattered Hearts series was one of my favorites last year. Truly heart happy, full of love gripping soulful moments and characters who became like family to me…this is a series that should be a must read on everyone's list.
To step back into this series and read Forever Ours and how Chris and Claire met and how they came to be, was a true delight. Young innocent love at its best. I was filled with joy watching them fall in love. It solidified even more my love for Chris Knight because of his patience and total dedication when it came to Claire – how he helped her move out of a dark place and into the light by finding true love, family and a place to call home. Now while this was an added bonus to the series to get a prequel, I didn't feel that it was completely necessary but was still well written and an enjoyable reading experience.
Now reading Chasing Abby brought my love for this series to a whole other level!
To finally see the outcome of a love that started so long ago was an unbelievable experience for me. I adored seeing Chris and Claire as parents – I always knew that they were completely meant for each other and experiencing their endless and fierce love for their children made me see how lucky their children were to have parents such as them.
I loved reading from the various POV's in this book…from Chris, Claire and Abby to the adoptive parents and Caleb, Abby's boyfriend. It really added so many layers to this story making it such a well rounded reading experience.
So much happens that I won't tell you about because I don't want to ruin the experience for you but I will say that it was VERY emotional, heart wrenching complete with ugly tears and laughter too. Be prepared with lots of tissues!
Chasing Abby was a phenomenal read and filled me with such hope and love in my heart. This was the PERFECT conclusion to this very loved series and I will read everything and anything that Cassia Leo writes. Job well done as always!
♥READ THE BOOKS ♥
SHATTERED HEARTS PURCHASE LINKS
Book .5 FOREVER OURS
Amazon US: http://amzn.to/1shNuwL
Amazon UK: http://amzn.to/1qLtuAz
Barnes & Noble: http://bit.ly/1rEwY5q
iTunes: http://bit.ly/1rsnrCz
Kobo: http://bit.ly/1jRWCyK
Google Play: http://bit.ly/TniX06
Book 1. RELENTLESS
Amazon US: http://amzn.to/1x0WE1I
Amazon UK: http://amzn.to/1d01Bgr
iTunes: http://bit.ly/17lo6ZN
Barnes & Noble: http://bit.ly/YzROSK
Kobo: http://bit.ly/12w6iK2
Google Play: http://bit.ly/1qT77om
Book 2. PIECES OF YOU
Amazon US: http://amzn.to/1rgx1VY
Amazon UK: http://amzn.to/1d01hhD
iTunes: http://bit.ly/ZPVLID
Barnes & Noble: http://bit.ly/10665Zd
Kobo: http://bit.ly/1c0Som3
Google Play: http://bit.ly/POYGoogle
Book 3. BRING ME HOME
Amazon US: http://amzn.to/1qn1DB7
Amazon UK: http://amzn.to/1dgOyZG
iTunes: http://bit.ly/bmhitunes
Barnes & Noble: http://bit.ly/bmhb-n
Kobo: http://bit.ly/bmhkobo
Google Play: http://bit.ly/BMHGoogle
Book 4. CHASING ABBY
Amazon US: http://amzn.to/1udqOxM
Amazon UK: http://amzn.to/YX4sUt
B&N Nook: http://bit.ly/1rmNrxI
Apple iBooks: http://bit.ly/1t33bqW
Kobo Books: http://bit.ly/YZDDPq
Google Play: http://bit.ly/1lIt4tH