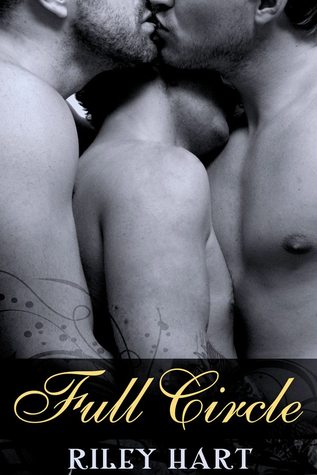 Full Circle

by Riley Hart
on September 2, 2014
Pages: 229
Buy on Amazon
Goodreads


Nothing in life is ever easy, and no one is more painfully aware of that than Josiah Evans, Mateo Sanchez, and Tristan Croft. They know what they want—each other—but with three people as broken as they are, all those pieces aren't so easily mended.

Josiah is their glue. All he wants is to give his men what they need.

Mateo wants to absolve himself of his sins. To be worthy of love and to protect it.

Tristan must let go of his past, must learn how to need, and what it really means to take care of someone.

To keep the balance intact, they all have their roles to play. But what happens if the balance shifts? What happens when someone doesn't play the right part? If one of them falters, they all feel the strain.

The only way to complete their full circle is for all their pieces, despite the curves and rough edges, to fit together perfectly. To do that, Josiah, Mateo, and Tristan must learn to get over the pasts that have defined who they are. And when an old enemy returns and threatens the foundation of their new life, decisions will be made, and boundaries will be tested that could change their lives forever.
First – do not read this review or book if you have not read Broken Pieces, second if you are open to reading gay romance and have not read Broken Pieces go 1-click now.
In Broken Pieces,  we get the powerful story of Josiah, Mateo (Teo) and Tristan
Broken Pieces left us with Josiah, Mateo and Tristan agreeing to be together, Full Circle gives the reader the next phase in their lives together – the how do you make that work.
In this one it is more than just two men who love  Josiah deciding to be happy as three. The happy Josiah, Teo and Tristan find is one the makes all three complete.
Teo is an ex-gangster still on probation and Tristan a state district attorney. Not to mention the fact that three men being together is complicated enough so for me personally, Full Circle was the real happy, the one you have to work for, the one you battle through life's tough moments to determine this is what you want.
Ms. Hart did a wonderful job putting these three into situations that pushed them, situations that forced them to decide each day that being with each other was worth it.
This truly was about how you make it work. Saying "I love you" is the easy part, building a life together is the real happily ever after.
Oh before I forget I love Ben, yes another man! Readers met Ben in Broken Pieces, his role in Full Circle endeared him to my heart; the small glimpse at his back story had me so wanting a happy for him and when I saw that Ms. Riley is planning book 3 in this series to be Ben, I was overjoyed!
♥READ THE SERIES♥
Book 1 – Broken Pieces
Book 2 – Full Circle