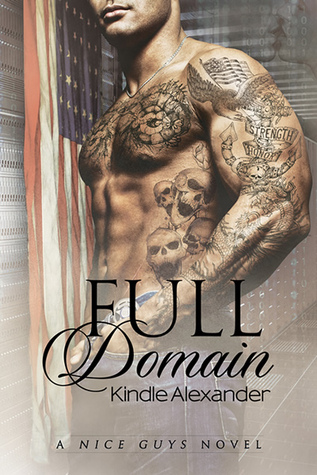 Full Domain

by Kindle Alexander
on January 12, 2016
Buy on Amazon
Goodreads


Honor, integrity, and loyalty are how Deputy US Marshal Kreed Sinacola lives his life. A former SEAL now employed by the Special Operations Group of the US Marshal Service, Kreed spent most of his life working covert operations and avoiding relationships. Never one to mix business with pleasure, his boundaries blur and his convictions are put to the test when he finally comes face-to-face with the hot computer geek he's been partnered with. Hell-bent on closing the ongoing case for his longtime friend, he pushes past his own limits and uncovers more than he expects.

Aaron Stuart strives for one thing: justice. Young and full of idealism, his highly sought after computer skills land him a position with the National Security Agency. Aaron's biggest hazard at his job is cramped fingers, but all that changes when he is drawn into the middle of a dangerous federal investigation. Aaron gets more than he bargained for when the FBI partners him with a handsome and tempting deputy US marshal. His attraction to the inked up, dark-haired man provides another kind of threat altogether. Aaron tries desperately to place a firewall around his heart and fight his developing feelings, knowing one misstep on his part could ultimately destroy him.

The solution isn't as easy as solving the case, which is treacherous enough as it is. But the growing sexual attraction between them threatens to derail more than just Kreed's personal convictions as he quickly learns temptation and matters of the heart rarely fit easily into the rules he's lived by. Will Kreed be able to convince Aaron to open his heart and face the fact that sometimes the answers aren't always hidden in code?
I loved Full Domain but to truly appreciate this book, please read Double Full and Full Disclosure first.
I am going to write this review as if the reader has read both so if you haven't read the prior books, stop reading this review and go one click both books as these three combined form an amazing story arc!
This book is the culmination of a series I adore. I know, I know. I am not usually a read a series as the story continues kind of reader but in this case the author gives each couple a happy at the end of their book while continuing a mystery woven into the plot of now all three books together.
Colt and Jace in Double Full and Mitch and Cody in Full Disclosure are characters who sit close to my heart and not only did I adore visiting with them in Full Domain, I loved the closure given to them by the work of Kreed and Aaron.
Yes, Full Domain gives the reader an up close and person look at Deputy US Marshal Kreed Sinacola (Mitch's partner) and Aaron Stuart, the tech genius who consulted in the case in Full Disclosure.
Ok no spoilers here.. but let me say Aaron is sooooooo much more than he seems on the surface.
"What?" Aaron asked.
"Have you slept yet?" Kreed sucked in a breath when Aaron dropped his legs to the floor and spun completely around in his desk chair to face him, exposing a well-defined chest, inked with an impressive tatt that ran across his shoulder and down his chest. A flash of silver on the kid's nipples caught Kreed's attention and held it. Nipple rings?
I don't know if the 5 stars is for the book or the whole series because this book had a lot of Colt and Jace, and Mitch and Cody as they solve the crime that runs through the books..it is hard to separate this book from the series but either way it is a 5 star conclusion!
It was such a great final book. I loved the who did it, how they found him and that a major part of the book was the love story between Kreed and Aaron (the very mysterious full of surprises Aaron).
Aaron and Kreed develop a banter that is even more fun than Mitch and Kreed (and they were partners for years):
"And those noises you make are a complete turn-on."
"I have a feeling it doesn't take much to turn you on. A slight gust of wind would probably have you at full mast," Aaron teased, lowering the lid to his laptop.
I loved that the crime was solved before the end of the book, allowing the final portion of the book to be about Kreed and Aaron. Two men who weren't looking for love. Both were closed off for their own reasons.
The way Aaron reveals who is to Kreed was so powerful. What starts out as a kind gesture by Aaron morphs into something so much deeper as secrets are revealed.
In the end, the theme that you can't change a leopard's spots you have to love him spots and all, was done with poetic grace and humor.
The epilogue not only had me smiling from ear to ear for Kreed, Aaron and the Sincola family, I also loved how Dylan and Tristan from Secret were weaved in. If you haven't read Secret, I highly recommend you #1click this book that was a top read for me in 2015!
This is a wonderfully long and complete story that never feels long.. so one click curl up and enjoy this one!

Full Domain by Kindle Alexander from Becca the Bibliophile on Vimeo.
♥READ THE SERIES ♥
Book 1 – Double Full
Book 2 – Full Disclosure
Book 3 – Full Domain