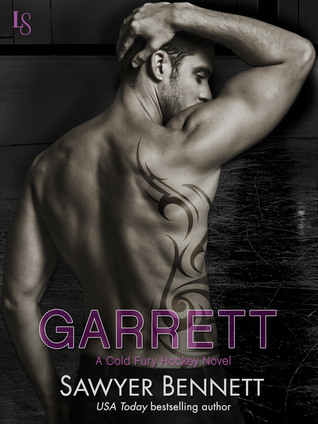 Garrett

by Sawyer Bennett
on February 17, 2015
Pages: 278
Buy on Amazon
Goodreads


Carolina Cold Fury star Garrett Samuelson never wants to miss out on a single minute of fun. Whether he's playing hockey, hanging out with friends, or walking the red carpet with a new date on his arm, he lives every day to the fullest. When he meets Olivia Case, he sees someone who's exactly his type—confident, sexy, smart . . . his next fling. But the more he pursues her, the more Garrett shares a side of himself that other women don't normally get to see.

Olivia has been keeping a secret. While Garrett lives for the next thrill, Olivia's not sure she'll live to see the next day. She's undergoing treatment for some serious medical issues, and she doesn't have time for a relationship with no guarantees—especially one with a hot-as-sin womanizer who won't take no for an answer. But as she gets to know the real Garrett, Olivia can't help falling for him . . . hard. To reveal the truth would mean risking everything—but you can't score without taking the tough shots.
Carolina Cold Fury star Garrett Samuelson, a professional hockey player, is a bachelor at heart. Garrett is stopped in his tracks when he meets Olivia Case, his teammate Alex's girlfriend's cousin. Oh Alex yes Alex from book 1; I want to pause here and say the bromance that develops between Alex and Garrett is epic; their banter, their ribbing of each and their calling each other out on falling in love often had me chuckling.
Back to Garrett and Olivia, from their first meeting, Garrett and Olivia are adorable:
"I'm sorry… but you are one of the most beautiful women I've ever seen." says Garrett. Olivia chuckles and flutters her lashes at me. "Pretty lame, Samuelson." "I'm dead serious," Garrett says in a low voice "You're stunning and I just had to tell you that. But now… sadly, since you think that was a cheesy pickup line, I will just be on my way. It was a pleasure to meet you, Olivia."
Olivia and Garrett slowly bond as they enjoy each other's company but Olivia has a secret; one that could truly affect the rest of her life. Watching this play out throughout the story often had my heart in my throat. This secret leads to many heartfelt scenes.
The "secret" is the reason Olivia is willing to take a shot, she steps out of her comfortable zone for a "fling" with this hot hockey star. I will NOT tell you what that secret is; you must read the book to experience this epic journey. This secret added layers into the story on so many levels (yes including the epic epilogue)
Garrett and Olivia were so much fun to experience as was watching Olivia coming to enjoy watching Garrett play hockey!
This book had so many heartfelt scenes; ones that develop beyond just the bond Garrett and Olivia are creating.
After Alex I said I couldn't wait for Garrett. Well after Garrett I can't freaking wait for Zack. I do not want to tell you the why but Zack is a #MUSTCLICK http://amzn.to/1ABcqz6.
Yes, something that happens in Garrett truly affects Zack, ugh my heart. I am dying to see how this one plays out.
The epilogue for Garrett was WOW; beyond epic and truly a fitting end to the theme and story line (as I said it is tied to the secret). It was the only way to truly show Garrett and Olivia as happy (nope still not telling! read the book)
Ms. Bennett this is a must read series for me! Thank you for the men of Cold Fury!
♥BUY THE BOOKS♥
Book 1 – Alex
Book 2 – Garrett