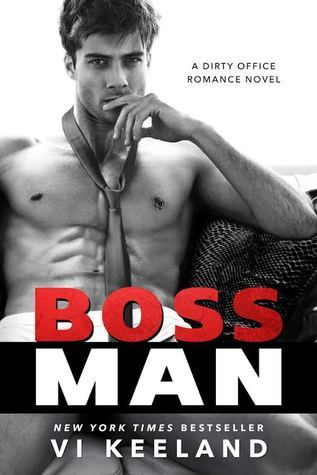 Bossman

by Vi Keeland
on July 18, 2016
Pages: 326
Buy on Amazon, Buy on B&N, Buy on iTunes, Buy on Kobo
Goodreads


The first time I met Chase Parker, I didn't exactly make a good impression.
I was hiding in the bathroom hallway of a restaurant, leaving a message for my best friend to save me from my awful date.
He overheard and told me I was a bitch, then proceeded to offer me some dating advice.
So I told him to mind his own damn business—his own tall, gorgeous, full-of-himself damn business—and went back to my miserable date.
When he walked by my table, he smirked, and I watched his arrogant, sexy ass walk back to his date.
I couldn't help but sneak hidden glances at the condescending jerk on the other side of the room. Of course, he caught me on more than one occasion, and winked.
When the gorgeous stranger and his equally hot date suddenly appeared at our table, I thought he was going to rat me out.
But instead, he pretended we knew each other and joined us—telling elaborate, embarrassing stories about our fake childhood.
My date suddenly went from boring to bizarrely exciting.
When it was over and we parted ways, I thought about him more than I would ever admit, even though I knew I'd never see him again.
I mean, what were the chances I'd run into him again in a city with eight million people?
Then again…
What were the chances a month later he'd wind up being my new sexy boss?
Bossman is the first standalone novel I have read by Vi Keeland and I loved it! I have read her collaborations with Penelope Ward and have also enjoyed those so am so glad that I was able to read this book.
I truly loved how these two met with Chase Parker saving Reese Annesley from her date from hell by pretending to be a fake childhood friend. I even bought into his lies as they were so funny that I found myself smiling while reminiscing on these fictitious memories lol
Time passes and Chase and Reese are put into each other's paths again when Reese finds herself employed at the company that Chase owns.
There are so many things I enjoy reading in books and the forbidden aspect of being attracted to your boss is one of them! That angsty feeling of knowing that it's so wrong yet the attraction is so magnetic, coupled with the fact that Chase actually predicts that "they" will definitely happen even though Reese wants to fight their connection made this read a complete treat! I loved their bantering and their sexual tension – SO delicious!
Reese will find that getting into a relationship with Chase is something that she wants with her whole heart. Sadly Chase's past will throw some curveballs into their happily ever after and Reese will be the one who will have to fight to help Chase face his past and fears for a possible future together.
While I completely loved the moments that made me smile, I loved the emotional moments that spoke to my heart even more and watching this couple's journey was so enjoyable to be a part of. OMG the epilogue….it was to die for and I closed my kindle with happiness and a huge smile on my face.
Readers who love witty dialogue, angst and pure romance should look no further than Bossman! I loved this story and look forward to reading more of Ms. Keeland's books!

"Sorry, I wasn't looking where—"
I froze.
The sight of Chase standing there was almost enough to knock me over. I'd secretly hoped to see him, yet never thought I actually would. What are the chances? I did a double take, sure I was seeing things. But it was him all right, in the flesh. And what flesh it is. Standing there shirtless and wet—wearing nothing but a pair of low-slung swim trunks—he had me stuttering. Literally.
"Ch…Ch…Ch—" I couldn't get the word out.
Of course, Chase didn't miss a beat. He smirked and leaned in. "You do a cute train impression, Buttercup."
He remembers me.
I shook my head, attempting to snap myself out of it. But it was no use. He was so tall, and I was so short, I had no choice but to stare at his body. Water trickled down his abs. I was mesmerized watching it speed up and slow down as it crossed the rippled lines of his six-pack. Damn.
I cleared my throat and finally spoke. "Chase."
I was pretty freaking proud of myself for getting that much out. He had a towel slung around his neck and lifted it to dry off his dripping hair, revealing even more flesh. His pectoral muscles were carved and perfect. And—oh, my God…is that… Holy shit. It is. His nipples were cold and erect, and one of them was….was…pierced.