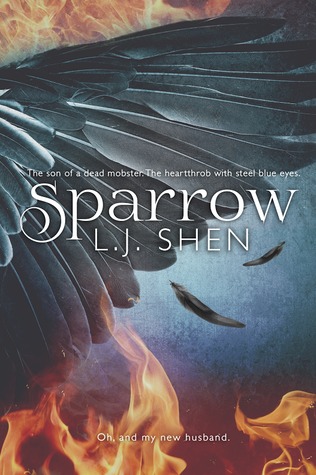 Sparrow

by L.J. Shen
on March 8, 2016
Pages: 302
Buy on Amazon
Goodreads


Troy Brennan

Every Southie in Boston knows that name. The son of a dead mobster. The heart-throb with steel-blue eyes. "The Fixer" who can make or break you in this city.

Oh, and my new husband.

Sparrow Raynes

That's me. No one seemed to remember my name up until he barged into my life.
But then he caged me.
Kidnapped me.
And killed every chance I had to run away from the place where we grew up.
Put simply, Troy Brennan clipped my wings.

I have dreams, big ones, but I doubt he'll ever let me chase them. I have no idea why he decided to take me as his wife. But I do know this: pissing off this man will not do me any good. At all.

Sparrow is a standalone, full-length novel. It contains graphic violence and adult situations some may find offensive.
OMG! I LOVED this book BIG TIME! I know I am shouting at you and I'm sorry but Sparrow was recommended to me at the best time. You see, August has been a pretty hard month for me when it comes to my TBR list. While there were many books I loved this month, unfortunately there were also so many books that fell flat for me and I was in a total book funk. Well, I stayed up til 4:30a reading reading Sparrow and quite honestly I haven't done that in SO long! When I finished reading, I was on a total book high which was so needed! This book was SO addicting and SO damn good! And a bonus – another new author to read and add to my must read list…I'm so happy!! Sexy, romantic and unexpected – Sparrow is a must read! Make sure to read an excerpt and enter the giveaway after my review 😉
So what's this book about?
Troy Brennan is the son of a dead mobster and out seeking revenge on the ones who killed his father. Sparrow Raynes is the daughter of one of his low man on the totem pole employees and finds herself marrying Troy for reasons that she doesn't understand.
I loved Sparrow. She is the total opposite of what Troy usually looks for in one of his women but I loved her instantly for her spunky attitude, her innocence, and her strength.
And while I didn't want to fall in love with Troy…I SO did! I loved these two together even though they were both living a life that they didn't necessarily want to live, fighting things that they didn't want to feel.
Watching these characters grow together and begin to open up to each other was so much fun to be a part of. It helped that we could read in dual POV's and understand what each was going through, what they were thinking and feeling as the story unfolded.
Sparrow is exciting and so different from what is out there. I love mob stories but even more so I love romance that sweeps you off your feet, that is addictive, heartwarming, and unputdownable. Sparrow is all these things and so much more.  Readers who love dark heroes and heroines who put them in their places, who love heat and suspense mixed in with epic love should pick up this book. I promise you won't regret losing yourself in this story!
L.J. Shen is a new author to me that I look forward to reading again and again! <3

"Get your shit and move back up." It was an order.
Troy.
I stilled, clad only in a purple undershirt and matching underwear, the boyfriend-shorts style.
"I want to mess around," I smiled into the darkness, staring at a spot above his head. I could faintly make the shape of his body. He had one leg propped on the nightstand, his smart shirt rolled up to his elbows. "Nobody said anything about getting back to playing house."
This was a blunt provocation, a way to lick the Paddy Rowan wound he split open so brutally when he visited him in Miami. It almost made me feel better, hearing his breaths picking up speed, both of us engulfed in the pitch black. He was getting restless. Annoyed. And more than likely, hot for me.  
Erecting his spine, he got up from the mattress, striding easily in my direction. A warm shiver ran down the length of my body like a bomb fuse. It exploded somewhere between my thighs, sending sparks of adrenaline to the rest of my body.
I was going to pick up a fight tonight.
"You know, Red? It's hard to hate you all the way when you stand toe-to-toe with me," he chuckled, circling me with his arms behind his back. The room was dark, too dark, and I was disorientated by the long working day and the fact that he came here for something.
For something I wanted and waited for.
For something I feared and dreaded.
For him to take my innocence.
"Is that your version for sweet nothings?" I snorted, shaking my head. "Because you suck."
"I'm rooting for you," he continued, ignoring my jab. "I'm fucking your life up and you're still trying to claw your way out of the quicksand. It's hard not to admire that."
His body hovered over mine like a cloud of sweet mist, almost touching. I sucked my cheeks in, feeling my cool façade faltering. I didn't want him to be nice to me. It made our war so much more dangerous.
"Get to the point," I hissed.
"You refuse to be a victim. You always fight back, boots on the ground."
"Troy," my voice nearly broke. It was the first time I called him by his first name without having a hidden agenda. "I said get to the point."
"When we were in Miami, I was doin' you a solid." His lips found my skull. More hot shivers. More want. More lust. More Troy.
Idiot, I thought. You ruined me in Miami.
"Oh?" I asked, fighting the need to let my arms loose, to allow my hands touch his strong, male body. I wanted him despite everything, and worriedly, maybe even precisely because of what he did to me.
"Paddy," his name was like a smack in my face leaving Troy's mouth. "I paid him a visit in Florida. Went there and got your payback for you."
I choked on my saliva, my eyes flaring, but I didn't say a word. I felt his lips fluttering between my shoulder blades, planting a greedy kiss between my neck and shoulder, his tongue darting out briefly to remind me what's to come. "He is dying from cancer, y'know. Will be dead in a few weeks. He will die a poor man. He will die a broken man. Every dime he owned to his name…" He caught a loose strand of my hair, feeling it between his fingers like he was examining fine silk. "Is now yours."
"Mine?" I repeated.
"Yours," he nodded into the crook of my neck, his hot lips landing on spots I didn't even know were sensitive. Calm washed over me. Realization, too.
This was retaliation.
Not business…but the sweetest form of comfort. Revenge.

*Giveaway now over – Congrats to Ellie*
Enter to win a signed paperback of SPARROW (open international)
All you have to do is share this excerpt and giveaway on your social media account(s) (Facebook, Twitter, Instagram, etc). Sample message below:
Sexy, romantic and unexpected – Sparrow is a must read! #ExcerptAndGiveaway @shhmomsreading @lj_shen
 Please make sure to post a link to your shares below. ONE winner will be chosen Tuesday September 6th. Thank you for sharing!