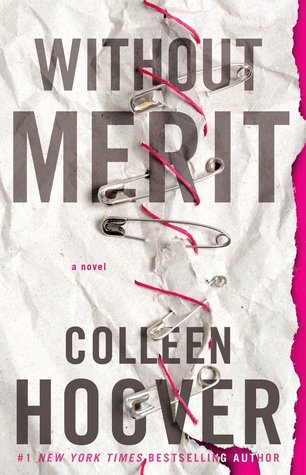 Without Merit

by Colleen Hoover
on October 3, 2017
Pages: 384
Buy on Amazon, Buy on B&N, Buy on iTunes, Buy on Kobo
Goodreads


Not every mistake deserves a consequence. Sometimes the only thing it deserves is forgiveness.

The Voss family is anything but normal. They live in a repurposed church, newly baptized Dollar Voss. The once cancer-stricken mother lives in the basement, the father is married to the mother's former nurse, the little half-brother isn't allowed to do or eat anything fun, and the eldest siblings are irritatingly perfect. Then, there's Merit.

Merit Voss collects trophies she hasn't earned and secrets her family forces her to keep. While browsing the local antiques shop for her next trophy, she finds Sagan. His wit and unapologetic idealism disarm and spark renewed life into her—until she discovers that he's completely unavailable. Merit retreats deeper into herself, watching her family from the sidelines when she learns a secret that no trophy in the world can fix.

Fed up with the lies, Merit decides to shatter the happy family illusion that she's never been a part of before leaving them behind for good. When her escape plan fails, Merit is forced to deal with the staggering consequences of telling the truth and losing the one boy she loves.
We have a sneak peek into the book below with Chapter 1 of Without Merit and make sure to enter the giveaway below. Good luck!!!
So I went into Without Merit with an open mind knowing it was different than other books CoHo has written and more YA not romance. That being said I appreciated getting something different from her as it showcases what a well rounded author she is and that she has the ability to give us different unique stories. In the book world with so much being the same, I enjoyed and craved this something new from her.
The Voss family is plain weird. Every possible secret you can imagine they are hiding, they are. I struggled with this a bit seeing what the author wanted to show…the different issues people go through. I just wasn't sure that it was realistic for every single person in that one family to suffer something. It almost didn't seem too believable. Also when we get to the end, I felt that there were still some things left open-ended that I would have liked more story about… maybe an epilogue or something would have helped with this.
What I did enjoy was the personal growth within all of the characters and most especially for Merit to know and understand how much she is loved while also learning to love herself. I laughed and I teared watching these characters go through their lives. I love that Hoover is still capable of bringing out the readers emotions with each book she writes. I also want to say that Sagan was TO DIE FOR *le sigh*
Was this my favorite Hoover book? Definitely no. But was it a well-written page turner that I devoured and couldn't turn the pages fast enough because it was unputdownable… DEFINITELY YES!
I would have liked to see more of the romance aspect but knowing that this is YA I liked what potential for the future it eluded to.
Without Merit is a 3-3.5 STAR book for me… I love Colleen Hoover as an author and will read anything and everything she writes <3


Enter the Rafflecopter  to win a limited edition signed hardcover copy of WITHOUT MERIT! (5 winners in total) Contest is open until October 30th!