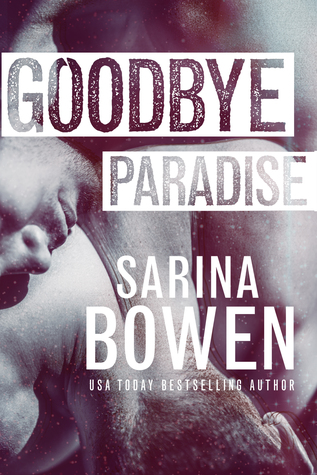 Goodbye Paradise

by Sarina Bowen
on March 21, 2017
Pages: 266
Buy on Amazon, Buy on B&N, Buy on iTunes, Buy on Kobo
Goodreads


Most people called it a cult. But for twenty years, Josh and Caleb called it home.

In Paradise, there is no television. No fast food. Just long hours of farm work and prayer on a dusty Wyoming ranch, and nights in a crowded bunkhouse. The boys of the Compound are kept far from the sinners' world.

But Joshua doesn't need temptation to sin. His whole life, he's wanted his best friend, Caleb. By day they work side by side. Only when Josh closes his eyes at night can they be together the way he craves.

It can never be. And his survival depends on keeping his terrible desires secret.

Caleb has always protected Josh against the worst of the bullying at the Compound. But he has secrets of his own, and a plan to get away — until it all backfires.

Josh finds himself homeless in a world that doesn't want him. Can Caleb find him in time? And will they find a place of safety, where he can admit to Josh how he really feels?

Warning: Contains a hot male/male romance, copious instances of taking the Lord's name in vain, and love against the kitchen counter. This book was previously released under the title: In Front of God & Everyone.
Goodbye Paradise by Sarina Bowen was originally published under a different pen name. I had no idea this book was published prior but the moment I learned this author had a gay romance releasing I was so excited to dive in.
Goodbye Paradise did not disappointed…. from the moment I opened it I was pulled in by Josh's voice. This book is the story of Josh and Caleb, two young men who when we meet them are inside a religious cult. These first few scenes do a wonderful job at painting how these boys grew up, really offering a window into Josh's mind.
How they find freedom, who they run to, how they get there and what they build were all so beautiful. It spoke to the power of love, the peace that comes from being able to be who you are and the desire to be free conquering all.
Now Josh and Caleb face some hurdles before they find this inner peace. The struggle Josh has over the teaching of his youth versus his feelings for Caleb and the acts he wants to try were powerful and made me feel for this young man.
Caleb with his desire to embrace his love for Josh made me love him, until I wanted to strangle him…. when the past comes to find them, mind you a past they went looking for (I know it seems odd but in the context of the book and who helped them… it really works). Caleb's reaction was one so very true to the character crafted but still had me wanting to strangle him.
This series of scenes were so powerful and in this Josh finds his voice and I so loved that about this book.
I am unsure if there will be more from these two but I truly hope so!
Oh and I love the very small, very small tie into Ms. Bowen's True North series.
I am finding that this author is one I can count on to to deliver a wonderful story each time I open a book she writes (and co-writes).