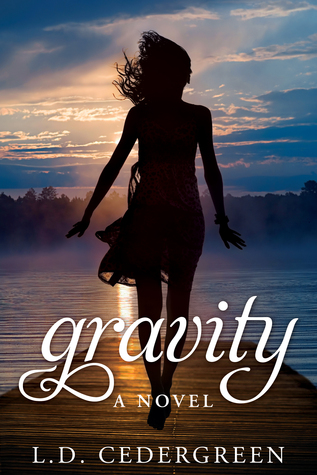 Gravity

by L.D. Cedergreen
on August 15, 2014
Pages: 286
Buy on Amazon
Goodreads


After years of trying unsuccessfully to conceive a child, Gemma Walsh finds her husband in bed with another woman. Unable to face his betrayal, she retreats to Priest Lake where her family owns a small cabin. But Gemma finds that she is not the only one hiding away at the lake to avoid an ugly truth.

Andrew Monroe was once an essential part of Gemma's life but tragedy and misunderstanding shattered their bond, separating them. Now twenty years later, Gemma questions the coincidence of their newly intersected paths as she struggles to resist the sparks that ignite between them.

Just when Gemma feels that she has found her second chance at happiness, she is faced with a shocking truth as her reality spirals out of control. She can't deny the powerful force that brought Andrew back into her life anymore than she can defy the same force that now threatens to pull them apart.

An emotionally-charged, heart-rending story that will leave you to question the freedom in truth and the existence of fate in its deepest sense.
This was my first book to read by this author. It came highly recommended so I gave it a try.
Some parts worked for me…some didn't. I don't want to reveal too much of the story as I feel that it's a journey that each reader needs to take on their own. The story itself based on the blurb had a lot of promise but some scenes didn't work for me as well as I would have wanted.
I just wanted more…more connection to the story…I wanted to feel why Gemma was connected to Drew. I thought this book would have such heart wrenching emotional scenes but it fell a little flat for me at times 🙁 I was angry at Gemma's husband and I didn't feel that rage from her, the questions – everything I would have felt, I thought Gemma lacked.
Though the twist surprised me…while I was reading I was still mad about Gemma actions…
Seeing now how everything goes down in the end..I did understand it more but I guess I hoped for a different ending…
I enjoyed the elements of fate and God and coincidence. how Drew was used to help her heal…to move forward…to forgive.
I did up liking the HEA in the end…though sad and not what I wanted the outcome to be, it was heartfelt and really showed me the difference between soulmate love and the love that is in your heart and necessary for you to live and survive.
I will say that L.D. Cedergreen is a talented author and her book was really well written. I look forward to trying other books from her in the future.
I do recommend this book to try….it received a lot of great reviews but unfortunately it didn't work for me. It doesn't mean that it wouldn't work for you.