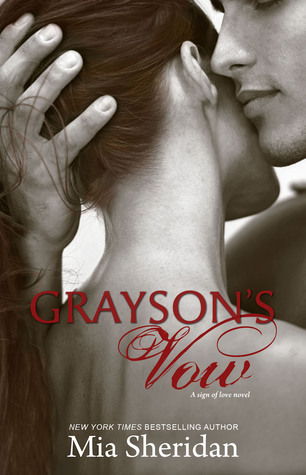 Grayson's Vow

by Mia Sheridan
on September 10, 2015
Buy on Amazon
Goodreads


A full-length, standalone romance from the New York Times bestselling author of Archer's Voice.

Kira Dallaire is desperate.

Some challenges in life seem too hard to overcome. With little money, and even fewer options, the quick-witted and vibrant twenty-two-year-old needs to reinvent herself. Known for her generous heart and impulsive personality, she devises a survival plan, possibly her most outrageous idea yet.

Grayson Hawthorn is losing hope.

Some obstacles in life seem too hard to overcome. Betrayal definitely being one of them. With limited capital, and dwindling resources, he is attempting to resurrect his failing family vineyard, a self-imposed vow seemingly destined to fail. That is until a young woman enters his office with an outlandish, unexpected proposition impossible to refuse.

What begins as a temporary business arrangement, soon evolves into more as vivacious, spirited Kira challenges detached, arrogant Grayson to want more from life. To want more for himself. But as their wills clash and fiery passion ignites, they'll realize that sometimes the past creates walls too difficult to climb, and that lies and deception rarely precede a happily every after.

As Kira and Grayson race toward their destiny, they will discover that some vows are meant to be broken, and others are worth risking everything for . . . even your very own heart.

THIS IS A STANDALONE SIGN OF LOVE NOVEL, INSPIRED BY LIBRA. New Adult Contemporary Romance: Due to strong language and sexual content, this book is not intended for readers under the age of 18.
I want to start by saying this is a stand alone book, the books in this series are based on a sign of the zodiac. Kira and Greyson do not appear in any other prior books.
Grayson's Vow finds Kira Dallaire proposing a very unique temporary business arrangement to Grayson Hawthorn.
"Desperate times…call for desperate measures. And this is about as desperate as measures get."
These two strangers, who see no way forward but to take what the other has to offer, develop a friendship of sorts, or maybe I should say a love hate relationship to start.
I adored the banter between these two. Kira and Grayson go from love hate, to friends almost (lol), to lovers, to friends, to so pissed at each other, to expecting they truly are each other soul mates. The journey Ms. Sheridan takes you on is so much fun!
"I'm sure you're aware that women find you… appealing of some unknown reason." I shrugged.
"Appealing?"
"Hot, panty-melting," I elaborated.
He stopped and I did as well, turning to face him. The look on his face was filled with amusement.
 "This topic interests me. I'd like to stop and discuss it further."
Toward the end when the truth about how much these two are interconnected is revealed, my heart broke for both Kira and Grayson.
I won't tell you how or what but I will say in typical Kira fashion I loved loved her taking charge, taking charge with yet another hair brained scheme but this one works in spades! I also adored how these plans tied into Grayson's past, really well played Ms. Sheridan!
'But sometimes, I supposed, a girl just had to be her own hero.'
This story of the dragon and little witch kept me so entertained, I was so happy I was able to sit and escape the real world for a few hours! No this is not a fairy tale but trust me the names work so well!
"You bring me peace, little witch, and you put a fire in my blood."
The love these two find isn't about perfect but about loving the whole person!
"Love is not always smooth and easy. Love can be piercing. Love means exposing yourself – all of yourself, every tender part – to being hurt. Because true love is not only the flower, true love is also the thorns."
The epilogue of this one grabbed my heart and left me with a smile from ear to ear!