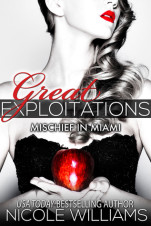 4 STARS!!!
Seduction. Infidelity. Blackmail. Scandal. It can all be bought for the right price and for Sienna Stevens, business is good.
Because she's in the business of Great Exploitations.
She's an Eve, a member of a secret society of women contracted by the wives of wealthy, powerful men for one reason and one reason only: to seduce their husbands. To ensure their pre-nuptial agreement will be null and void thanks to a little loophole known as the Infidelity Clause. To ensure that those wives don't find themselves on the other side of a divorce without a penny to their name.
When it comes to the Eves, Sienna's one of the best because she follows the number one rule of the Eves to the letter: don't let it get personal.
When the job file of her wealthiest client yet falls into her lap, Sienna realizes that this case could be the one that's impossible to detach herself from. The payout would lead to her independence, but will the cost be too high in the end?
Christine's Review
Our Clients are women who fell in love with a man with enough dollar signs behind his name to require a pre-nuptial agreement.  That same woman who, months or years later, finds her beloved husband isn't the loving, honest, and faithful person she'd hoped (perhaps, naively) he'd be.  That same woman who would come out on the other end of a divorce with nothing.  Not one damn dime because she fell in love, signed her name on some document, and the mister with a wandering eye and dick couldn't keep either to himself.

That is where the Eves come in.  That is where I come in.  It's what I know.  It's what I'm good at.  And it's what's going to pave the road for my own freedom.

I'm in the business of great exploitations.
Now how does that not pull you into this novella by Nicole Williams?!  Nicole has created something very different than what we are used to from her in which this is a series of sexy novellas following an Eve named "Sienna" who is working her way towards her freedom.
This is a book with a theme that many of us have read before but never executed where the woman has the dominant role in orchestrating a set-up – where she is hired to seduce a rich husband into having sex with her, pictures are then taken and the wife gets happily divorced and gets the money she deserves.  In real life, I am not a fan of infidelity but in my fictional life, this book took me on a dramatic and crazy ride and I was very intrigued!
As "Sienna" works her way through her current mission or Errand, I can't help but think she has a lot of experience and knowledge for a 25 year old woman.  It makes me wonder what happened to her in her past to cause her such pain.
As Sienna accomplishes what she is paid to do and gets her next Errand – and we find out who it is – I am left asking myself many questions – what will happen to her in her next exploitation?  Will she be able to remain emotionless and play the game as this next Errand is too close to the heart?  I guess we will have to wait for the next novella to find out!
I enjoyed this short story by Ms. Williams.  I would have liked some more character development of "Sienna" and to learn a little more about her.  I also would have enjoyed more story line with regards to her Errand in this book Mr. Silva and how he got caught and what was the aftermath.
But though it was short, I will continue reading as I am a huge Nicole Williams fan and because she definitely has me intrigued about what will happen next!
About the Author
I'm a wife, a mom, a writer. I started writing because I loved it and I'm still writing because I love it. I write young adult because I still believe in true love, kindred spirits, and happy endings. Here's to staying young at heart *raises champagne glass* . . . care to join me?