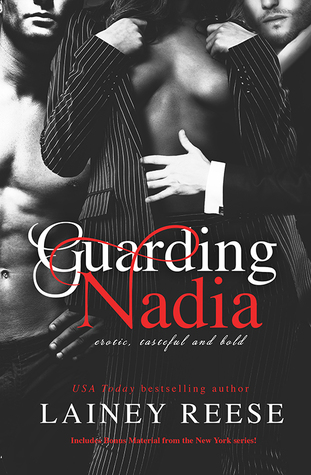 Guarding Nadia

by Lainey Reese
on February 2, 2015
Buy on Amazon
Goodreads


Nadia has been an erotic author of BDSM novels for years. She is no stranger to her work bringing out the crazy in some people. However, she was not prepared for a stalker and had no idea the lengths he would go to in order to have her.
Desperate when the police are unable to help, Nadia turns to a highly rated security team for protection. Although they looked more like GQ models than bodyguards, Nadia puts her trust and her life into their safekeeping.
From the moment she walked into their offices, Caleb and Jonas knew that there was nothing they wouldn't do to keep Nadia safe. Upon discovering the type of books she writes, they are floored because she has no idea that they are active members of not one but two BDSM clubs and had both reached Master status long ago.
As the two men guard her body and strive to win her heart there is one out there who will stop at nothing to claim what his twisted mind has convinced him is his. Including the murder anyone who stands in his way.

**Guarding Nadia is a Novella that comes with THREE never before published (in a book) scenes from Lainey's 'New York' series**
This is a wonderful story and a hot menage read. In typical Lainey Reese fashion, she masterfully weaves a suspense plot into the love story.
Ms. Reese does a wonderful job at not having the suspense element overpower the story and in this case as Nadia's love interests are the men she hires to protect her; it makes the weaving of the two elements even more enjoyable.
Ms. Reese has been writing BDSM novels for a long time and I adore her style; in this case we get two hot and loving and yes fiercely protective Doms, Caleb and Jonas. As I said prior, these are the men Nadia turns to for protection; she needs protecting when the police do not take the threats from a stalker seriously. Nadia is an author in the book; I know cute twist right; an author with a stalker whose behavior is escalating.
The attraction these three feel for each other comes through from the first meeting and the use of Nadia's books to put the men at ease when it comes to approaching her sexually, was so well done.
The stalker in this story is relentless and when he comes after Nadia; Ms. Reese has my heart in my throat. I won't tell you how it ends or who the stalker is.. I will say this is a great book to curl up with when you have some free time and want to get engrossed.
The end of the story left me with a grin from ear to ear; I truly was so pleased to see that the author did not gloss over how hard this chain of events was for Nadia. The happy achieved felt genuine and yes the reader gets a steamy HOT ending!
This novella also came with three never before published in a book scenes from Lainey's 'New York' series; and since I LOVE LOVE A Table for Three, this made me even happier!!!!
♥ THE NEW YORK SERIES ♥
Book 1 – A Table for Three
Book 2 – Damaged Goods
Book 3 – Innocence Defied