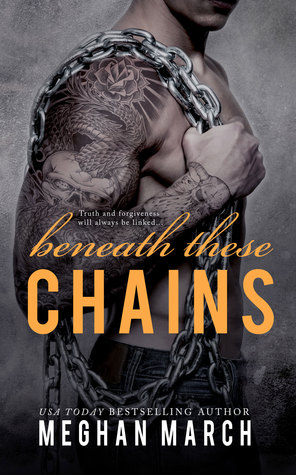 Beneath These Chains

by Meghan March
on June 16, 2015
Buy on Amazon
Goodreads


I was raised on the streets, so I know things are rarely as simple as they appear—especially this rich girl showing up at my pawnshop demanding a job.

She's the most tempting thing I've ever seen, and I'll be damned if I can make her leave.

Shit just got complicated … but when it comes to her—I want complicated.

We're both fighting our own demons, and our only chance at a future is to let go of the past.

But will we be strong enough to break free from beneath these chains?

BENEATH THESE CHAINS may be read as a standalone, but is best enjoyed in the following series order:

BENEATH THIS MASK (Book 1)
BENEATH THIS INK (Book 2)
BENEATH THESE CHAINS (Book 3)
I LOVE this series! For those who haven't read it, Meghan March gives us something different, exciting, sit on the edge of your seat stories with each successive story in the Beneath Series. Not only that but the characters are just to die for! Before I get into my review, here is a guest post from Meghan on what you need to know about this series…..
Five things to know about the Beneath Series:

5. It's set in the steamy, sexy city of New Orleans.
4. The men and women are equally likely to be tattooed and pierced.
3. No one is who they really seem on the surface.
2. The city may be hot, but the sexy times are even hotter.
1. Just when you think you know what's going to happen next … the Beneath Series will keep you guessing all the way to the end.
So what's the book about?
Well we finally get the story behind Lord Robichaux, Con's older brother and Elle Snyder, Vanessa's best friend. I absolutely LOVED the dynamic between Lord and Elle. Elle is vibrant and challenging and gets her way. Lord doesn't want to give in but he will because of his attraction for her (that he doesn't want to admit right away hehehehe)
You see Elle comes from a privileged background but isn't the typical spoiled rich girl. She approaches Con to work in his pawn shop and I was really impressed with her knowledge, her intelligence and her sass. Elle doesn't want to be controlled by her step father like how he controls her mom and because of this she keeps a wall around her heart not really letting any man get close to her.
What can I say about Lord….he isn't your typical tatted bad boy – he is smart, protective and caring and he has a really big heart. He also has a past that we learn more about in this story and though he feels he is unworthy of love from someone like Elle what I loved MOST about this story was how their roles were reversed and it was Lord who wants more from Vanessa yet she is unwilling to give in to the attraction that is so obvious and palpable to the reader.
So will Elle eventually open up her heart and let Lord in? Well of course I won't say…you have to read the book! The steaminess combined with the suspense that is trademark Meghan March makes this a great addition to the Beneath Series. Readers looking for action packed sexy fun should look no further than Meghan's Beneath Series – this is a series you don't want to miss!

Meghan March Beneath Series Giveaway

♥READ THE SERIES♥
Book 1 – Beneath This Mask
Book 2 – Beneath This Ink
Book 3 – Beneath These Chains