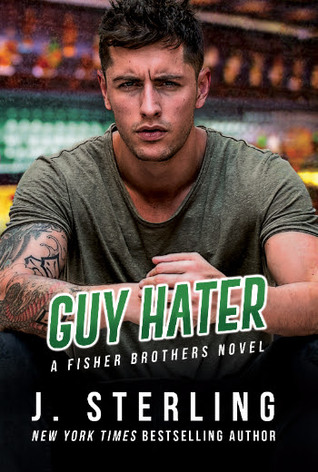 Guy Hater

by J. Sterling
on October 9, 2017
Buy on Amazon, Buy on B&N, Buy on iTunes, Buy on Kobo
Goodreads


Frank is the oldest of the Fisher Brothers; quiet, pensive and sexy as hell. He's stuck in a loveless relationship that he doesn't know how to get out of. The night Claudia walks into his bar, his life is forever changed. Frank is torn between following his obligations or his heart. It's not as easy to navigate as one might think.

Will Frank risk losing the one person who brought him back to life or will he go against it all and do what's expected of him?
I adore Jenn Sterling… I had the honor of seeing her last week at Tarryn Fisher's Write or Die Author Retreat in Seattle and just seeing her always puts a smile on my face because of her fun, outgoing personality.
As I was heading out to the airport, Jenn sent her new book Guy Hater my way and I enjoyed a quick, fun read on my trip home to NY.
I have not read the prior book in this series though after reading this book (which is a complete standalone), I wish I did so that I could have read Frank's brother's love story and how it all played out for him.
I enjoyed Guy Hater—this is Frank Fisher's story. The Fisher boys are fun, sexy bartenders and I loved their banter. Reading Frank's backstory and the reasons why he is in his current relationship broke my heart. You see, Frank isn't happy and just settling in life with his girlfriend Shelby because of feelings of obligation and guilt—there is love but not that soulmate kind of love. It is more of a gratitude/friendship love.
When he meets Claudia at his bar, his eyes open to what real love and emotion and feelings could be like for him. I enjoyed them getting to know each other though in the back of my mind, I knew that there could be potential setbacks because of how he handled the whole situation.
Without giving away the story, I want to say that some things worked for me while others did not—
I am not a huge fan of instalove though I know that it does happen in books. I guess for me, I want to see and feel it ALL and with Guy Hater, I felt like I was missing that connection. Yes, they spent some time together but it wasn't enough for me to understand what they liked or saw in each other to want that more. I kind of felt bad for Frank's girlfriend because she had no idea what he was feeling. And while I understood why he kept it all to himself, I wish I saw more interaction between them as a couple. I know that this is ultimately Frank and Claudia's story but I would have liked her character to be expanded upon more.
Also by the time things move forward with Frank and Claudia, I would have liked to see their physical connection sooner because by the time we get it in the book, we are at about 94% so I would have liked to see that heat and spark well before that time. Once they do connect however, it is HOT.
What I liked about this story is the ease with which Frank and Claudia bond when they are finally able to be together. I liked her sassiness and I loved his devotion. It made my heart happy to see them both finally content together because it felt like fate—that they were meant to be <3