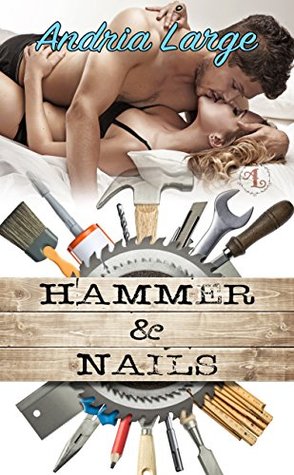 Hammer & Nails

by Andria Large
on March 24, 2015
Pages: 187
Buy on Amazon
Goodreads


Harley Jameson is not your typical woman. She's a rough and tumble, beer drinking, hockey loving, smart mouthed, kind of woman. In fact, she owns her own contracting company. Most men just treat her as one of the guys; that is, until she meets her newest client…

Nolan Hammerstein is most definitely not a guy's guy. He's rich, spoiled, well dressed, and oh yeah - rich. His father owns the NHL's Boston Bruisers, and he's worked for his father since graduating from Harvard. Needless to say, he lives the life of luxury. When he purchases a new home, Nolan calls Jameson Contractors to schedule a consult with a man that he thinks is the owner…

Harley and Nolan's first meeting does not go well, so you can imagine her surprise when he actually hires her to renovate his house. While snarky comments and arguments are simmering on the surface, sexual attraction and tension are brewing underneath. But will Nolan's uptight father and a handsy hockey player get in between their already volatile relationship? Or will they learn to accept each other's differences and bond tighter because of them?

Note: This book is a standalone with a HEA. For mature audiences only, as there are hot, steamy, and explicit sex scenes throughout the book.
This book is the story of female contractor Harley Jameson and Nolan Hammerstein who is rich, well dressed, and the son of the owner of the NHL's Boston Bruisers.
Harley is snarky, driven and yes at times down right rude. Nolan is pompous and arrogant and judgmental.  Because of all of this, it took me a bit to really get into this one.
From their first meeting, these two have an explosive relationship. Witnessing them push each other and finally give into that attraction felt true to the characters created.
Ms. Large did a good job using Harley and Nolan's family throughout this story. I loved the use of Harley's brothers; I think for a period of time it was them that kept me reading. And the stark contrast between Harley's father's unconditional love and Nolan's father's love by approval was truly well done.
I adored how Nolan finally took control of his life; his growth throughout this story made me believe he found his true happy with Harley.
In the end I truly enjoyed this one.. oh speaking of the end, this book contains a truly well executed epilogue, one that had me picturing the whole cast with the same huge smile I had on my face.
This was my first book by Ms. Large, I look forward to watching her grow.