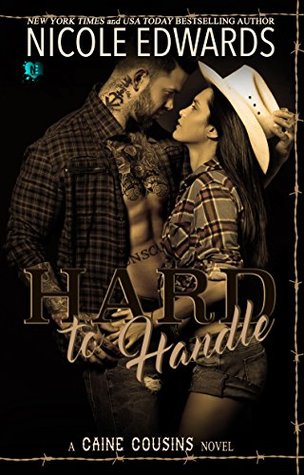 Hard to Handle

by Nicole Edwards
on July 11, 2017
Pages: 284
Buy on Amazon, Buy on B&N, Buy on iTunes, Buy on Kobo
Goodreads


Lynx Caine is no stranger to trouble. He's found himself knee deep in it more times than he can count. But never has he found himself in the sort of hot water he's in now. Lynx has been waiting what feels like a lifetime for Reagan Trevino to dump the loser she's spent nearly a decade with. Now that she's single, Lynx is free to make his move. And he fully intends to do so.

However, Reagan is not going to be easy to catch. She has some stipulations for the bad boy of Embers Ridge, and she has every intention of sticking to them. Or that was her plan. Unfortunately, her good intentions are thwarted when a madman draws her right into the line of fire.

When Lynx refuses to let her out of his sight, Reagan soon realizes the sexy country boy might be tattooed from neck to knuckles, but he's got a heart as big as Texas and resisting him is a whole lot harder than she anticipated.
The Caine Cousins duet was an enjoyable story! The reader gets Wolfe Caine's (menage) happy in book 1
Hard to Hold
and Lynx Caine's happy in this one
Hard to Handle
but there is an element that runs through both books that  ties the two books together!
In this one, Lynx's love interest is Reagan Trevino, the sheriff's sister and the woman his heart has desired for a decade!
Reagan is a strong female lead. I so loved this about her; though she is attracted to Lynx she doesn't want to be another notch on his bedpost! The stipulations she puts on Lynx make for a slow burn, one that very much works given the characters.
How the element comes to end was interesting and definitely makes for a permanent happy for all involved; nope I am so NOT telling—read the book!
Seeing Wolfe, Amy and Rhys from Hard to Hold and watching their relationship continue to grow brought a huge smile to my face; oh and the end scene with Rhys and Wolfe was so perfect for them!
Shh…. I will share a secret—you do get some up close and personal (yes hot) time with this threesome; such a wonderful surprise.
If you are fan of Nicole Edwards you will love, love the use of characters from her other books. If you have never read a Nicole Edwards book, no worries at the end of the book she provides a fabulous cheat sheet so you can read about a character mentioned if he peaked your interest!
I highly recommend reading this duet from front cover of Hard to Hold to back cover of Hard to Handle; the story arc makes for a nice binge read!