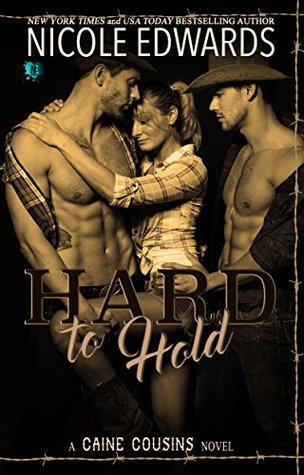 Hard to Hold

by Nicole Edwards
on May 30, 2017
Pages: 364
Buy on Amazon, Buy on B&N, Buy on iTunes, Buy on Kobo
Goodreads


Wolfe Caine and his cousin Lynx know the small town of Embers Ridge like the backs of their hands. They grew up here, started more than their fair share of trouble on these back roads. They've been called wild, untamable, even crazy at times. And they're okay with that.

Settling down has never been in Wolfe's plan, but that was before they caught his eye. As far as Wolfe's concerned, the two of them together … that's his greatest temptation.

Getting close to either of them is difficult. But when Wolfe gets them both in his grasp, he's determined he's going to hold on, no matter how hard that proves to be.
Hard to Hold
is the start of a new series by Nicole Edwards. From the moment I saw she was writing a new menage and a m/m/f (the men touch) at that I was over the moon!
And the good news is that this book did not disappoint!
The blurb shared very little about what the reader will experience…. so I am going to do the same
I will say book 1 is  Wolfe Caine's happy; his cousin Lynx Caine gets his happy in book 2 Hard to Handle (and yes this is such a perfect name for a book about Lynx).
Ms. Edwards did a wonderful job at painting the small town of Embers Ridge. Hard to Hold pulled me in from the moment I opened it and kept me wanting to return to my kindle.
The story wove in humor, emotions and yes HEAT—I mean come on it is a Nicole Edwards menage!!
I loved Wolfe, strong, sexy, available to his love interests and he goes after what he wants. Yes he wants a man and a woman but trust me it is done openly, honestly, and with true care for those involved.
If you have never read this author, this is a wonderful book to start with. If you have read her prior books, you will smile a few times as the cast from prior books weaves in just a bit.
The three characters who make up the menage relationship are all well crafted. The author did a great job bonding them to each other and ensuring the reader felt not just the physical connection between the three but an emotional one as well.
You may hear some buzz about a "cliff" but for me this story was NOT a cliffhanger. There is an open story item but it is not central to the romance relationship. Yes, I am anxiously awaiting Hard to Handle, but I would be anyway because I adored Lynx and I have my fingers crossed readers will be able to witness him woo the one he chases a bit in this story… I know this is vague … sorry read the book!