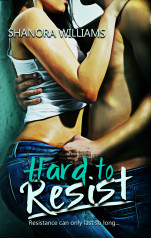 2.5 STARS!
Summary
Natalie Carmichael thought that Bryson Daniels would be her world. She planned a bright future with him, cherished four years with him, and couldn't have been any happier, but during graduation night, all of that changes.
Natalie walks in on Bryson cheating on her. One month after catching him in the act, she finally decides to make an escape by leaving for Florida.
She wants to start over, have fun, and be free while also finding a way to mend her broken heart but when she meets Nolan Young, her single-life escapade doesn't last for very long. She tries to stay clear of Nolan and his desires but it's impossible for her. Nolan will do everything that he can to have her as his own, but will Natalie accept Nolan along with the problems of his past? Will she let someone else into her heart that may be even worse than Bryson?
For Natalie, Nolan will be something completely new to her. And for them both, their desires will be completely hard to resist.
Christine's Review
I really wanted to like this book.  I think that the cover is gorgeous.  I also thought that the story had a lot of potential.
However, there were a number of things that didn't work for me.
For the most part, I had a hard time connecting with the characters.  Natalie has had her life all planned out – she is to marry her high school sweetheart Bryce, have kids and live happily ever after.  But it doesn't turn out that way when she catches Bryson cheating on her on the night of their graduation from high school.
A month later, she decides to leave South Carolina for Florida to live with one of her best friend's – Harper.  On her first night in Florida, Natalie almost runs over this gorgeous guy – enter Nolan Young.  Though she doesn't know who he is, she sees him on her first night out in the club and from there a friendship/relationship develop between these two characters.  Though Nolan is super sexy, I found his pick-up lines to be so cheesy!
I had a hard time connecting with Natalie because I felt that a lot of her conversations were very immature.  I felt that she was one huge pity party.  For every new memory/moment, she created with Nolan, she was always reminiscing about her relationship with Bryson.  I totally understand her misgivings about meeting new guys and though Nolan has a past of his own, he seemed to really want to make it work with her.  He really put in the effort to try to change.  She had absolutely no confidence in herself and it made me want to jump in the book and knock some sense into her!
The romance was a bit rushed for me – I guess in my mind I felt that after being with someone for 4 years, I wouldn't jump right back into the dating pool to start looking for my next boyfriend.  There was no time in between to actually grieve for the love that was lost.
The second half of the book definitely picked up for me.  I have to admit that the one good thing in this book was that the sex was SO HOT!  It also did pick up on my interest towards the end because once we find out that Nolan has to move away because his mom is sick with cancer, I wondered what would happen with these characters?  Would their relationship survive the distance?  Would this relationship work?  Yes, be forewarned that this is a cliffhanger!  I do look forward to reading more from this author as she continues to grow in her writing.  I look forward to see what happens with this couple in the next book.
This love was hard to control.

This love was hard to keep hidden.

This love was hard to go through with

But this love was going to happen one way or another because it was completely and utterly hard to resist.
I was provided an ARC copy of this book for an honest review.
About the Author
Shanora was born and raised in Matthews, North Carolina. She's the author of The Story of Jackson Haddock, the New Adult series, OBTAINED, the New Adult novel, Hard to Resist, and the author of the upcoming New Adult novel Falling for Trouble.
When she's not writing, she's happily reading or watching cartoons like a big kid. She has a wonderful family that you will hear her brag and talk about all of the time. Whenever she just wants to get away from the words for a while, she'll spend some time with her loved ones, eat gummy bears, or go get a drink from Starbucks– depending on the weather. Her favorite hot drink during winter is a White Chocolate Mocha with whipped cream and her favorite cold drink is a Strawberry and Cream Frappuccino! Her biggest dream is to have people all over the world enjoy her books and her writing.
Twitter  twitter.com/shanorawilliams
Facebook http://www.facebook.com/ShanoraWilliamsAuthor
Goodreads  http://www.goodreads.com/author/show/6476392.Shanora_Williams