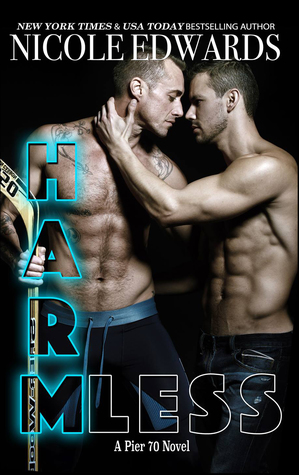 Harmless

by Nicole Edwards
on March 28, 2017
Buy on Amazon, Buy on B&N, Buy on iTunes, Buy on Kobo
Goodreads


He's got a secret...
Roan Gregory, one of the four owners of Pier 70 Marina, has managed to paint himself as a loner in recent months. There's a reason for that. And he's got every intention of keeping that reason a secret. That is, until he no longer has the option.

He's got a secret, too...
Colton Seguine, defenseman for the Austin Arrows, has gotten good at keeping the world from finding out that he's gay. He knows exactly what he can and cannot do. And with whom. That is, until he sees Roan for the first time and all bets are off.

Some secrets are too big to keep.
Temperatures soar when this brooding bad boy gets his first taste of this smoking hot hockey player.

Can Roan and Seg push past each other's defenses? Or -- thanks to the way the cards have been dealt -- will the time they spent together prove to be just a harmless one night stand?
Harmless is book 4 in Ms. Edwards all male Pier 70 series. This book gives us Roan Gregory's story while tying into Ms. Edwards Austin Arrows (hockey series) as Roan's love interest is defenseman Colton  Seguine, also known as "Seg" because in true hockey boy fashion he has a nickname.
This book brings heat from almost the moment you open it followed by deep powerful emotions within a few page turns! Ms. Edwards at her best!
I am not going to speak of the emotions that fill the first few chapters. For those who read the prior books, it is clear there is something going on with Roan's sister but I think experiencing it unfold is so powerful I will NOT say anything more than… WOW!
These scenes were raw and impactful for the reader and the characters.  The secret and the struggles…  all fit the characters portrayed so well. They added such depth to the story.  Both men are adults with careers and past experiences; it takes more than being attracted to each other to make this love work!
This book has a number of outstanding uses of secondary characters and not just ones we know from the prior books in this series, though Milly and Cam and even Roan have a few epic scenes. I came to adore Seg's mom!  Her love for her son and for his passion shone through; she is an awesome Canadian hockey mom!
There were times I wanted to strangle Seg and one time I wanted to punch him in the throat… but it all makes sense given his character and the circumstances painted so I get it! I did end up freaking loving him because when Seg finds his voice when he decided what he wants he not only goes after it, he does it with some well placed words and sentiments.  His banter with Mrs. Gregory I think may be some of the best stuff Ms. Edwards has ever written: heartfelt, poignant, to the point without being rude and well, it spoke volumes to Seg and the depth of his love for Roan (along with his desire to move forward with their forever happy).
In the end, the happy found brought a giant smile to my face not just for these men but also for the bonus happy in the epilogue; not telling read the book!
Note to add: I love the hint of Heath Rush …….the tie into the Austin Arrows that came toward the end and why it was relevant in this story. I can't wait to see the brother of Arrows goalie Kingston Rush have his happy told when he joins the team.
Yes, I am hoping to see the Pier 70 cast make an appearance or two as the Austin Arrows series plays out… oh and since I am in an asking of the author mood, I will keeping going…LOL I know the Pier 70 series is painted as an all gay romance series but I hope hope we get a novella for Milly and AJ!
I want to add by saying though I loved Hudson and Teague in Speechless and they will forever hold a place in my heart and soul; Harmless is one of the best book Ms. Edwards has written.  I did not want to put this book down, I loved the twists and turns and all the emotions pulled from the reader.
Though Harmless could stand on its own… I highly recommend taking the journey with the men of Pier 70 and reading the series.
♥ Read the Series ♥
BOOK 1 – RECKLESS
BOOK 2 – FEARLESS
BOOK 3 – SPEECHLESS